Preston Lee's gift to the LBJ School of Public Affairs creates space for diverse voices.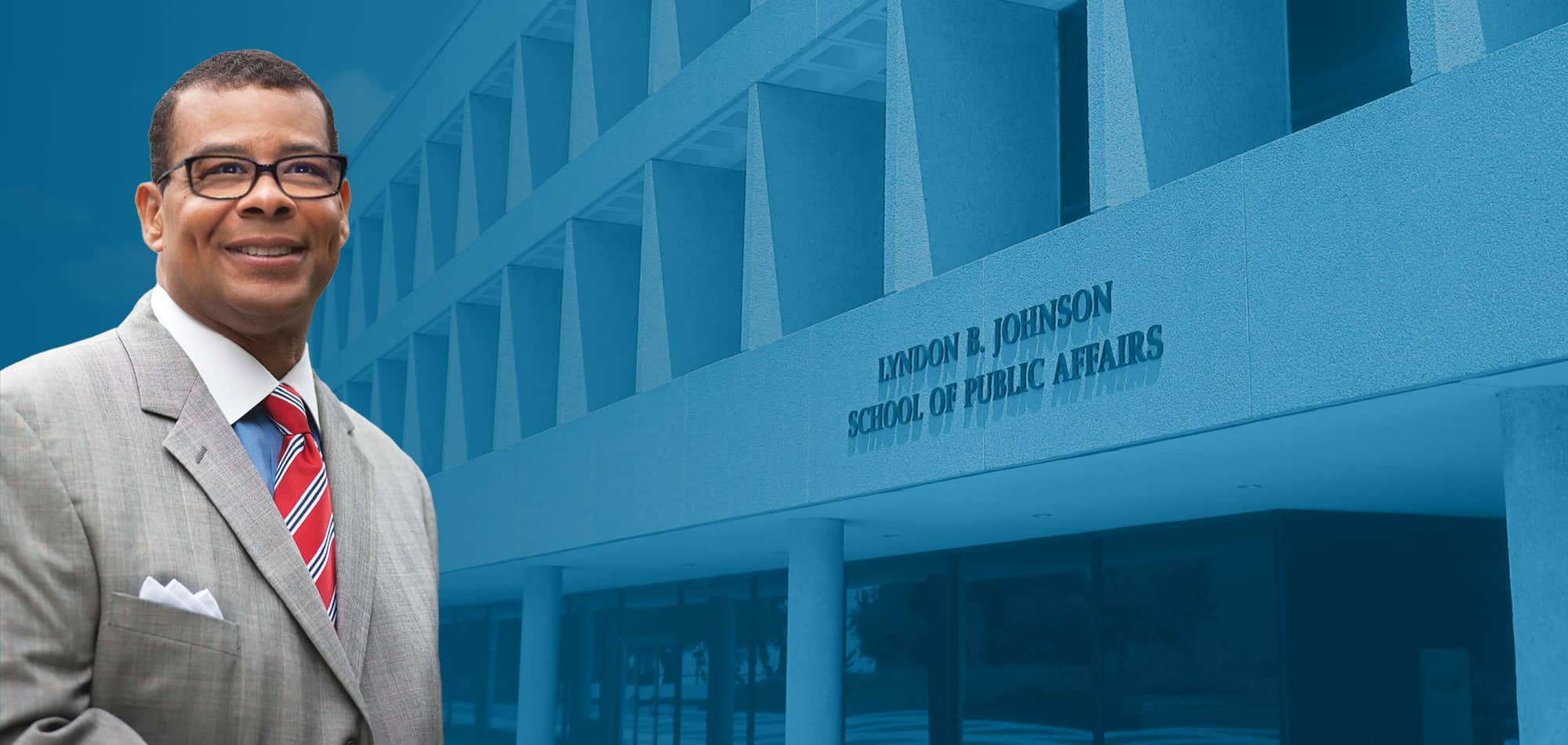 Preston Lee grew up in Washington, D.C., a city steeped in history and significance —
"a place where local news is national news," he notes. His hometown played a role in his personal and professional development, and so did his home life.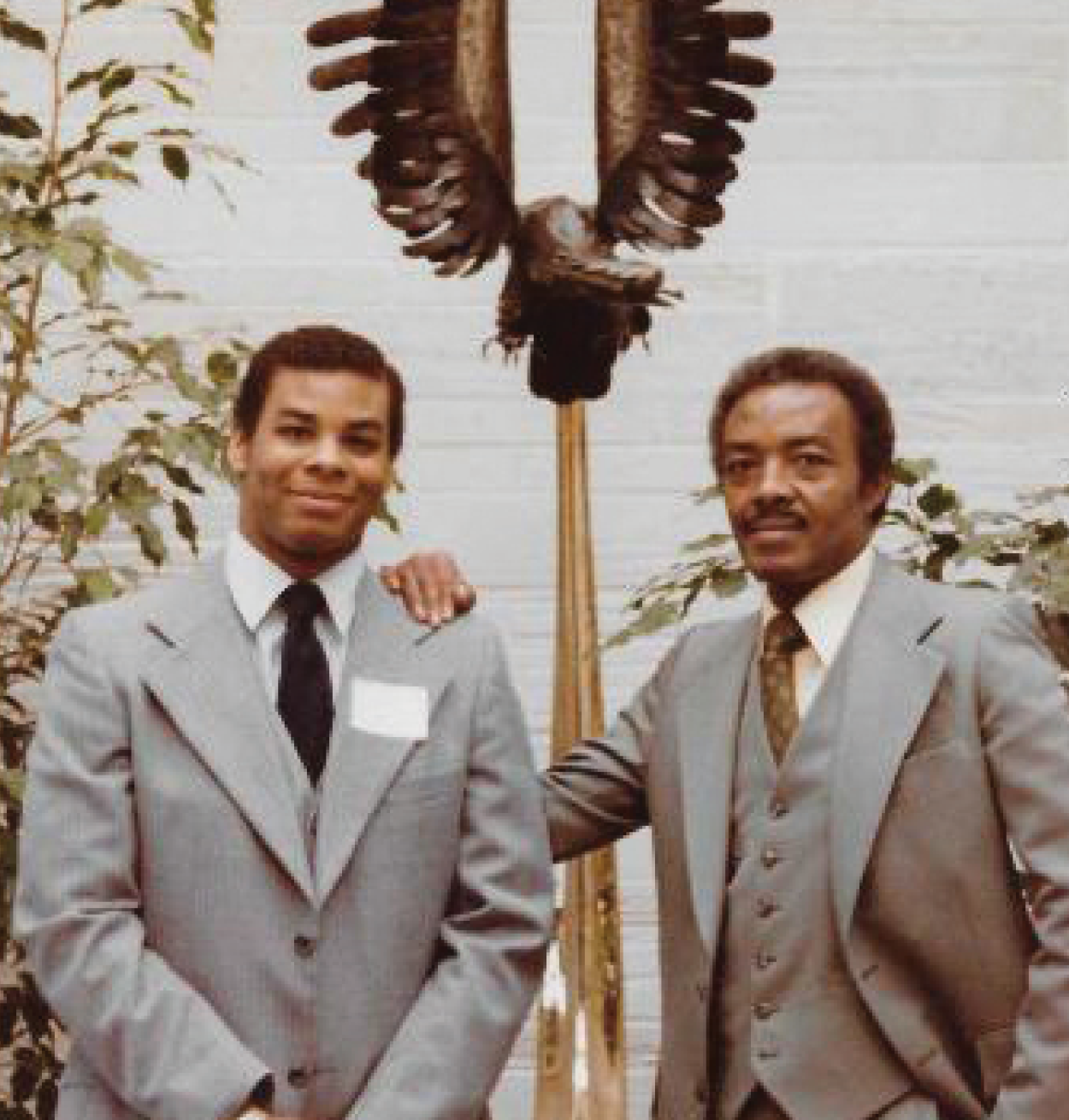 Preston V. Lee, Sr. at Preston Jr.'s acceptance of the Harry Truman Scholarship (1981)
One of his earliest childhood memories is watching his father get ready to go to work. Preston's father was an executive at Freedmen's Hospital, an institution founded in 1862 and the first medical facility to provide medical aid to formerly enslaved people. He also served in senior executive roles at the U.S. Department of Health, Education and Welfare, later renamed the U.S. Department of Health and Human Services, and the CIA. At age 4, Preston proclaimed that just like his dad, he would grow up to wear a suit and tie to work every day. "That was during the early '60s, so it was really important in that time period for me to see my dad as a white-collar professional," Preston recalls. "He was a role model for me very early on."
Preston's declaration came true. The 1985 graduate of the Lyndon B. Johnson School of Public Affairs at The University of Texas at Austin was appointed to the U.S. Department of Housing and Urban Development during former President Bill Clinton's administration. He also served as policy advisor for Vice President Al Gore's National Partnership for Reinventing Government and then as a government and corporate relations executive at Freddie Mac. Throughout his career, he brought insight and a deep understanding of issues to his work, but what was missing from the meeting tables reminded him of how much work had yet to be done. "As I looked around those rooms, I didn't see very many folks of color," Preston says. "That's something that still persists today."

From left: Preston with Lady Bird Johnson at the LBJ School (1984); accepting the Elmer B. Staats Award for his distinguished public service career (2018); with his wife, Joanne, and Al Gore at the vice president's holiday party (1998)
Through his ongoing financial contributions to the LBJ School and bequest, Preston is taking steps to change that. His future gift, made through Texas Exes, will establish The Preston V. Lee, Jr. Endowed Public Service & Civics Opportunity Scholarship. By providing support for Black and African American students attending the LBJ School, Preston's fellowship will help diversify the field of public policy, allow more voices to be heard, and prepare future generations to take on leadership roles in public service.
Preston explains the importance of hearing a variety of voices and points of view while policy is being developed. "When you don't have active representation of particular interests and experiences, those points of view are lost," he says. "When public policy is made and implemented without those voices being represented, it is much harder to get full and lasting agreement. The best policy is that which represents multiple interests and points of view from the beginning."
"The school specializes in putting students of differing backgrounds and points of view in collaborative situations and work projects with real-world significance. That's a great feature of the LBJ School education."
Preston sees the LBJ School as a great place to prepare the next wave of professional public servants. He credits the school with giving him the opportunity to develop skills as an organizer and as a policy analyst. "The school specializes in putting students of differing backgrounds and points of view in collaborative situations and work projects with real-world significance. That's a great feature of the LBJ School education," says Preston.
As a member of the Dean's Advisory Board at LBJ and a steering committee member for the school's LBJ Washington Center, Preston always works toward increasing diversity and inclusivity. "When people see me walk into a room, they know what I'm going to be talking about," he laughs.
After years of contributing to the school's Barbara Jordan Ethics Chair Fund and the Barbara Jordan Professional Development Fund — which support fellowship awards available to LBJ students — Preston decided to create a fund of his own, knowing what it takes to bring the best and the brightest to the Forty Acres.
"We've got to be able to compete for talented students, and that takes money. You've got to be able to say, 'Here's what we have to offer you,'" says Preston. "You don't have to be a gazillionaire to make a bequest. I'm hoping my gift will encourage others who are similarly situated to step up and help out as well."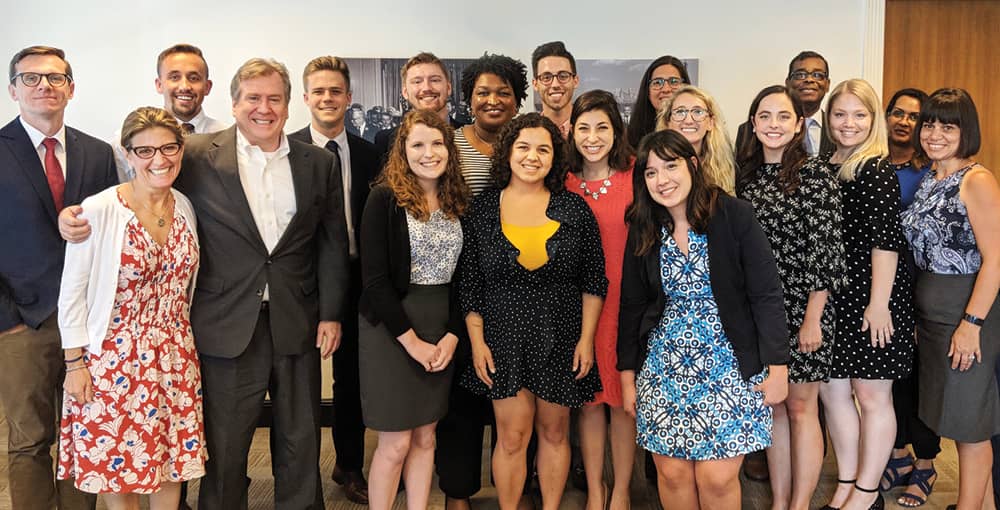 Preston with LBJ Washington Center's former executive director Tom O'Donnell (fourth from left), associate director Robin Boone (farthest right), LBJ School alumna Stacey Abrams (back row, center), alumna and steering committee member Jennifer Poulakidas (second from left), plus other steering committee members and students (2018)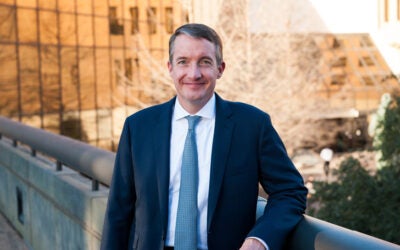 Achieving milestones is an excellent moment to look forward and set goals for the future.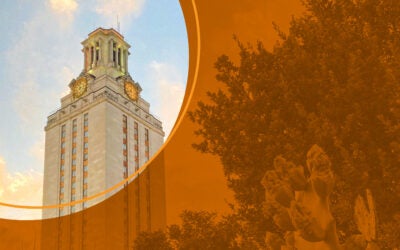 Alumni share favorite UT memories and why they support the Forty Acres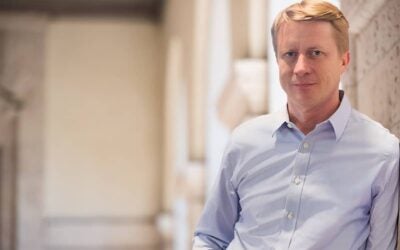 Bjorn Billhardt decided to be a Longhorn after he came to the Austin area in the '80s as a teenager on a foreign exchange program.