Three years ago, Hurricane Harvey devastated communities along Texas' coast. In Port Aransas, Harvey's eyewall passed directly over The University of Texas at Austin's Marine Science Institute. MSI is still rebuilding with support from the university, insurance, government grants — and generous donors like you.
MSI's research pier and instrument house before and after Hurricane Harvey.
Longhorn Bobby Patton, BBA '85, is a Texas Parks & Wildlife commissioner and passionate angler. Since 2019 he's given over $2.5 million to MSI, supporting both the reconstruction of the renamed Patton Marine Science Education Center and research on the declining Southern Flounder population.
UT's Marine Science Institute, the oldest marine laboratory on the Gulf Coast, has made its home in Port Aransas since the 1930s, when Professor E.J. Lund arrived to investigate a fish kill. The institute was formally established in 1941 and its main campus includes 72 acres of beachfront property and 70 buildings including labs, classrooms, the Patton Marine Science Education Center, the Wetlands Education Center, and an animal rehabilitation center. It also manages the Fennessey Ranch in Bayside, Texas and Bay Education Center in Rockport.
Harvey caused over $45 million in damages at MSI — not only to walls and roofs, but to labs, sophisticated scientific instruments, and even research in progress. The institute's faculty and graduate students contribute important knowledge about our coasts and marine environments, providing insight into red tide and oil spills, spawning sport fish in captivity, and educating thousands of children and visitors per year.
"Thanks to support from Longhorn Nation, the Board of Regents and several federal agencies, our faculty, students and staff were able to return to campus in spring of 2018," says MSI director Dr. Robert Dickey. "The rebuilding is ongoing, and the MSI mission to advance knowledge and address challenging issues in the marine realm has been restored."
Third time's a charm
Harvey isn't the first hurricane to derail UT's marine research. The Board of Regents first appropriated $300 for a Galveston-based marine lab in 1900. A few months later, the Great Storm of 1900 struck, destroying the research vessel. In 1915, Regent George W. Brackenridge donated his own yacht for research — and it was also destroyed in a tropical storm before it could go into service. In 1941 UT finally opened its Marine Science Institute — in Port Aransas.
MSI researchers continue their mission to improve understanding of the marine environment.
Three years after Harvey, MSI is still rebuilding. You can help advance critical marine research, support scientists, and connect K-12 students and teachers with marine education by making a gift today.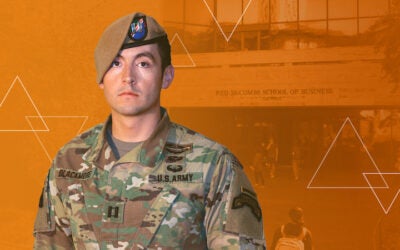 The Warrior National Foundation supports special operations veterans mastering business at Texas McCombs.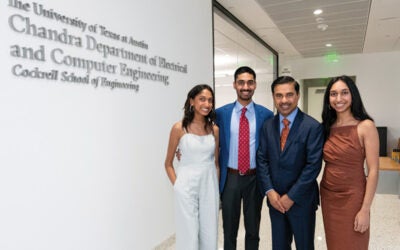 The Chandra family leaves a legacy of philanthropy and impact.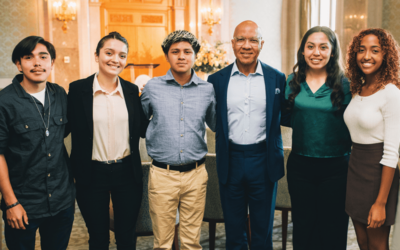 The inaugural class of Darren Walker Scholars meets their namesake and sponsors.