White loves to help geoscience students explore the White Family Outdoor Learning Center.
Photos: Anton Caputo
Generations of geoscientists will benefit from Leslie P. and Dianne White's epic donation
As Leslie P. White walks the 266 acres of his beautiful Hill Country ranch, he's every bit the geologist. He knows every rock, every stream, every outcrop, and he carries a whiteboard to help him map out the features and explain them to guests.
White loves the ranch and the opportunity it offers him to spend time outside sharing its natural splendor  —  and maybe a few geology lessons  —  with friends and family. But he loves his alma mater even more. That's why Leslie and his wife Dianne have gifted the ranch, the White Family Outdoor Learning Center, to benefit The University of Texas at Austin's Jackson School of Geosciences: to act as a living classroom for future generations of geoscientists to learn their craft.
"Geologists need to be outside. They need to see geology where it lives," said White, who graduated from UT with a degree in geology in 1956.
The property, roughly an hour's ride southwest of campus outside Dripping Springs, is a game changer for the Jackson School, particularly for hydrogeology research and education. The school's mission involves tackling the big, hard issues facing Texas and the world, such as how to manage scarce water resources in the face of a booming population and how to determine when heavy rains will turn into dangerous floods.
White was at the ranch in May when students had their first look at the property, as Jackson School professors incorporated a visit into the annual hydrology field camp.
"It's absolutely a dream come true," said Assistant Professor Ashley Matheny. "We can study not only stream gauging, well pumping and aquifer testing, but also how the landscape interacts with hydrology."
"Field work is foundational for geosciences education at every level," said Sharon Mosher, Jackson School dean. "I can't stress how important Leslie and Dianne's donation is to the school and the opportunities it affords us to educate young geoscientists. Their foresight and generosity will pay dividends for Texas and beyond for generations to come."
White, who spent his career with Humble Oil and Exxon, has enjoyed time on the ranch with family and friends throughout the years. One of his fondest memories is hosting the 92nd birthday party of former UT geology professor and legendary geologist Stephen Clabaugh. It's a story he likes to share, because it shows the lifelong connection he made as a student to a teacher who influenced his life academically and as a role model. "The school for me became like extended family," he said. "I'll bet today's students will find the same."
"My time at the university was transformational, and it is up to us UT graduates to give back to the university and make sure that future students can have the same experience."
Leslie and Dianne White are gifting their ranch to become an outdoor teaching and research facility.
Photo: Wyatt McSpaddden
White also relayed some wisdom to his visitors that had been imparted to him as a student: "Question all things and do your own thinking." And he asked them to save a little money to give back to the university, particularly to a Jackson School endowment he started with matching funds from Exxon. He had advice for how to do so. "When you eat out, drink water," he said. "After all, you are hydrologists." White continued, "My time at the university was transformational, and it is up to us UT graduates to give back to the university and make sure that future students can have the same experience."
When you include UT in your estate plan, you create global leaders, drive discovery and change the world. You also protect assets, provide for those you love and receive tax-wise benefits.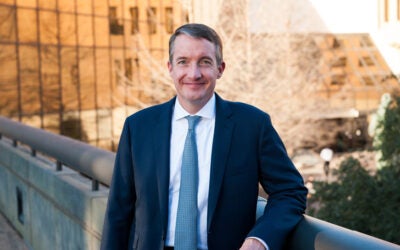 Achieving milestones is an excellent moment to look forward and set goals for the future.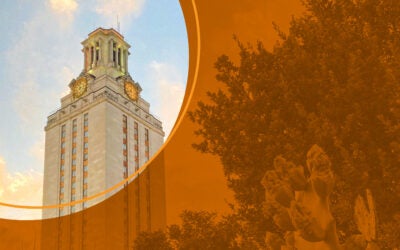 Alumni share favorite UT memories and why they support the Forty Acres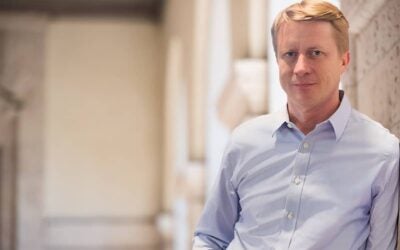 Bjorn Billhardt decided to be a Longhorn after he came to the Austin area in the '80s as a teenager on a foreign exchange program.