Partners in business and in life, Jeff Helton and Bruce Garrison share how their UT experience paved the way to success.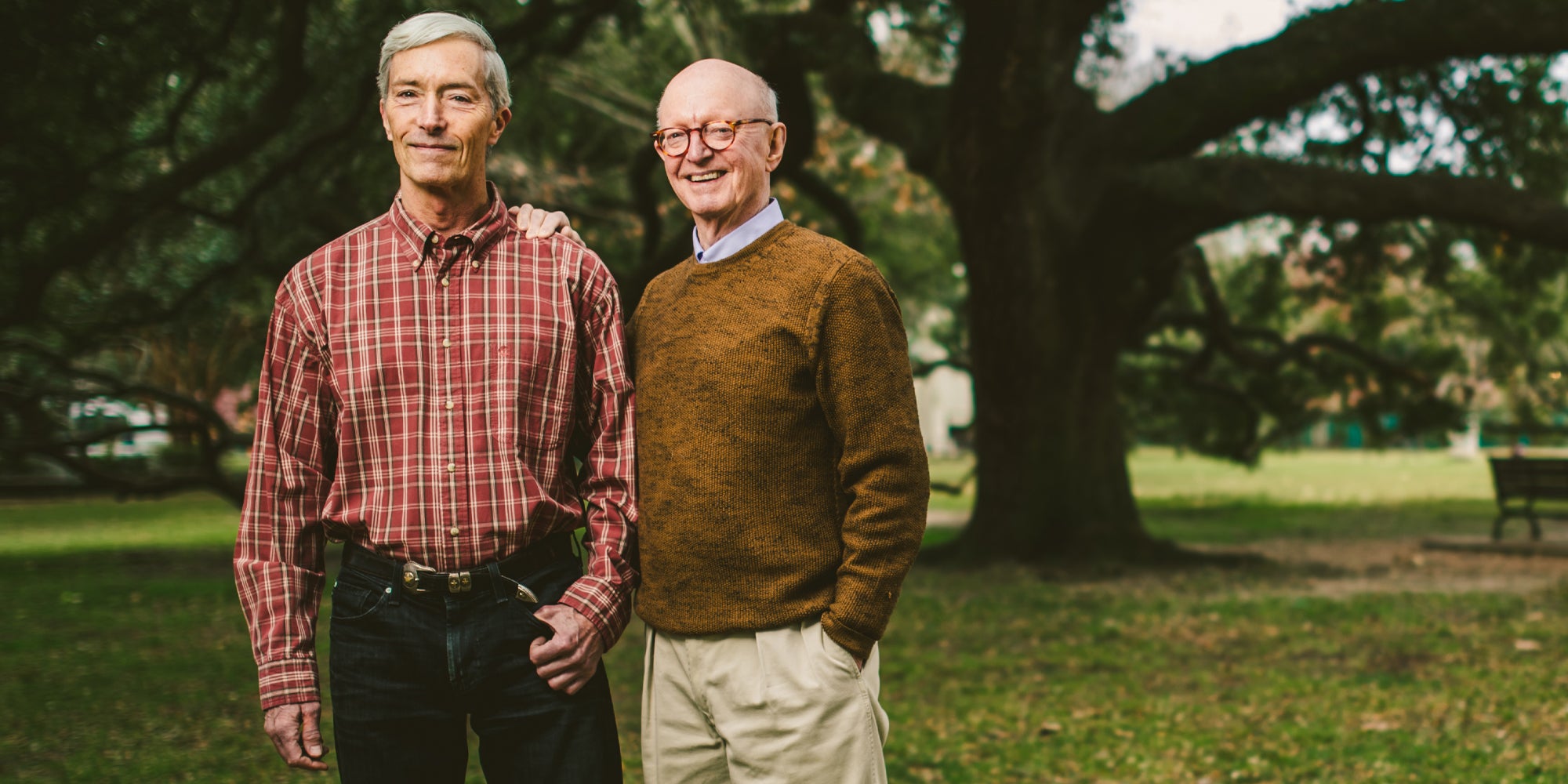 For Jeff Helton (BBA '78, MBA '80) and Bruce Garrison (BBA '67, MBA '72), what started at The University of Texas at Austin took them far from the Forty Acres and high up the career ladder. They became the top real estate investment trust advisors in the country, with a lifestyle that demanded lengthy commutes to their offices in Manhattan from their home in Greenwich, CT — "a home we'd only ever see in the dark," says Jeff.
Now that the Brazosport, TX, natives are back in their home state, their lifestyle is considerably more relaxed. Bruce's office is just a mile and a half down the road from their primary home in Houston, which they share with their five-year-old Jack Russell terrier, Button. Weekends are spent at a second home on the San Bernard River — a residence they wryly refer to as their "villa." Whether looking back on a high-octane career in the world's largest financial center or looking forward to a more low-key future, Bruce and Jeff acknowledge the role UT has played in both. They contend that neither their careers nor the lifestyle they currently enjoy would have been possible without their education from UT.
"I think it just laid the perfect foundation for me. Being in a large environment like UT helped prepare me to accept my first job in New York City. I owe a lot to the university," says Bruce. Jeff adds, "Going to such a large and diverse institution, you have more confidence in entering the business world."
The path to success did not start out smoothly for Bruce. After transferring from a two-year college to UT, he admits that "too many distractions" led to a string of middling grades during his bachelor's degree. The break from academics before graduate school gave him an opportunity to recalibrate. "I spent three years in the military after getting my bachelor's degree. My experience convinced me I was not going to re-up. Vietnam turned out to be quite a maturation process — one that allowed me to have a laser focus on my career," he says.
When he returned to UT for graduate studies, his determination to succeed led him to become an A student. "That did a lot for my self-esteem and my understanding of what I could accomplish," he says. In tribute to a mentor who was particularly helpful in his academic progress, Bruce established an endowed chair in finance in Professor Ernest Walker's name.
"Being in a large environment like UT helped prepare me to accept my first job in New York City. I owe a lot to the university." – Bruce Garrison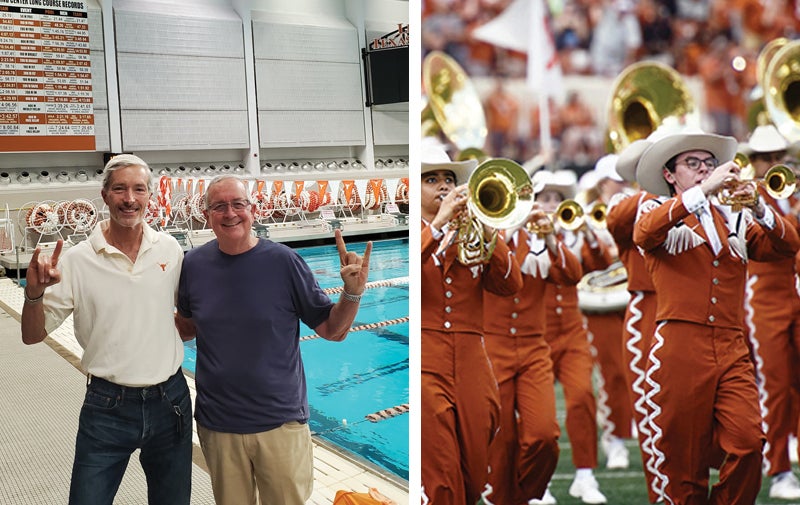 LEFT: Jeff (left) was thrilled to practice with UT's swim team under the guidance of legendary coach Eddie Reese.
RIGHT: Memories of great performances led Bruce to make a major gift to the iconic Longhorn Band.
With tremendous gratitude for all UT gave to them, Bruce and Jeff have individually and collectively made contributions that represent the 10th-largest booked estate gift in the history of UT and reflect their eclectic range of interests. Bruce established a finance professorship in the McCombs School of Business, and Jeff did the same in accounting. Bruce also has endowed a scholarship for the Longhorn Band, which he refers to as his "emotional connection" to the university. "The band supports all the sports so well. The performance it provides both pre-game and during halftime is one of my favorite things to watch," he says.
A competitive swimmer in high school, Jeff still swims approximately 400 miles a year. He has endowed a scholarship for the men's swimming and diving team, where numerous Olympic medal-winners have trained. After making a generous gift to UT's Eddie Reese Outdoor Pool that resulted in the naming of a lane, Jeff visited the world-class facility, proudly noting that "Coach Reese said I was the first donor who had ever swum in it."
Jeff and Bruce have received more than 200 thank-you notes from the Longhorn Foundation staff and Athletic Department, covering virtually all sports at UT. They've enjoyed hearing how their gifts have made a difference to scholarship recipients and faculty and staff members. The knowledge that their gift is in good hands, supporting causes they believe in, gives them both a sense of satisfaction and security. "You want to rest easy knowing your money is being well managed and well spent," says Jeff.
Get Started
When you include UT in your estate plan, you create global leaders, drive discovery and change the world. You also protect assets, provide for those you love and receive tax-wise benefits.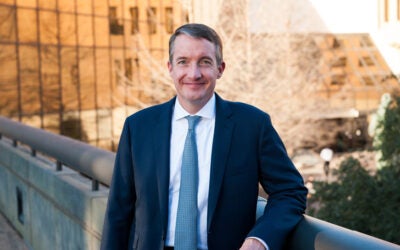 Achieving milestones is an excellent moment to look forward and set goals for the future.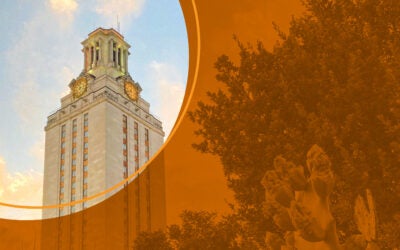 Alumni share favorite UT memories and why they support the Forty Acres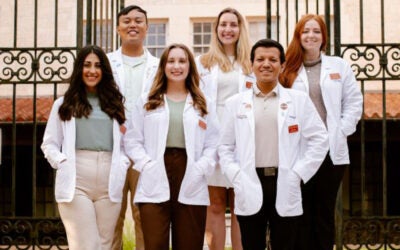 Marissa Schlaifer sees philanthropy as an obligation more than an opportunity. Her gift will open many doors for students in the College of Pharmacy.