With your support, UT is innovating education from New York City to West Texas.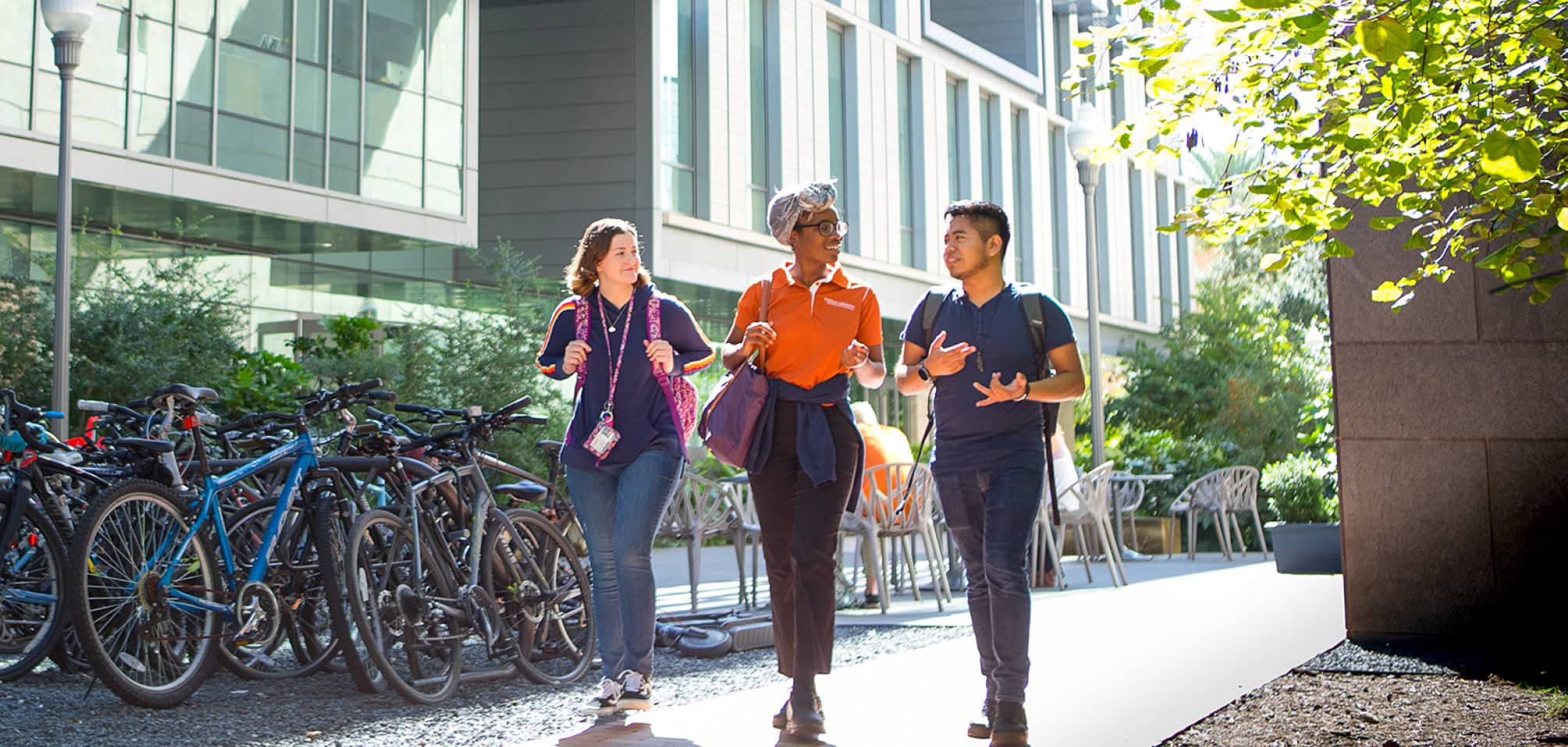 As a new school year begins, here's a look at how The University of Texas at Austin is innovating education off campus, from West Texas to New York City, thanks to the support of our generous alumni and friends.
When Longhorns return to the Forty Acres for the fall, a small cohort of UT students will be starting their semester further afield — in Manhattan. Through the UT in New York Program, or UTNY, UT students spend a semester in the Big Apple, living, working and learning in one of the world's great cities.
Students from across campus can apply to participate in this internship-first experiential learning program, a partnership between the College of Fine Arts, College of Liberal Arts, McCombs School of Business and Moody College of Communication. UTNY participants also take courses in areas like history, architecture, advertising and the arts. "In my architecture class, we hopped on the subway together to learn about early skyscrapers in the financial district," says Hannah Hayes, B.A. '22, who spent the fall of her senior year at UTNY. "It's super inspiring to be in the city — a genuinely once-in-a-lifetime experience. And New York has a great alumni network," she says. "As long as you're a Longhorn, you'll never be alone."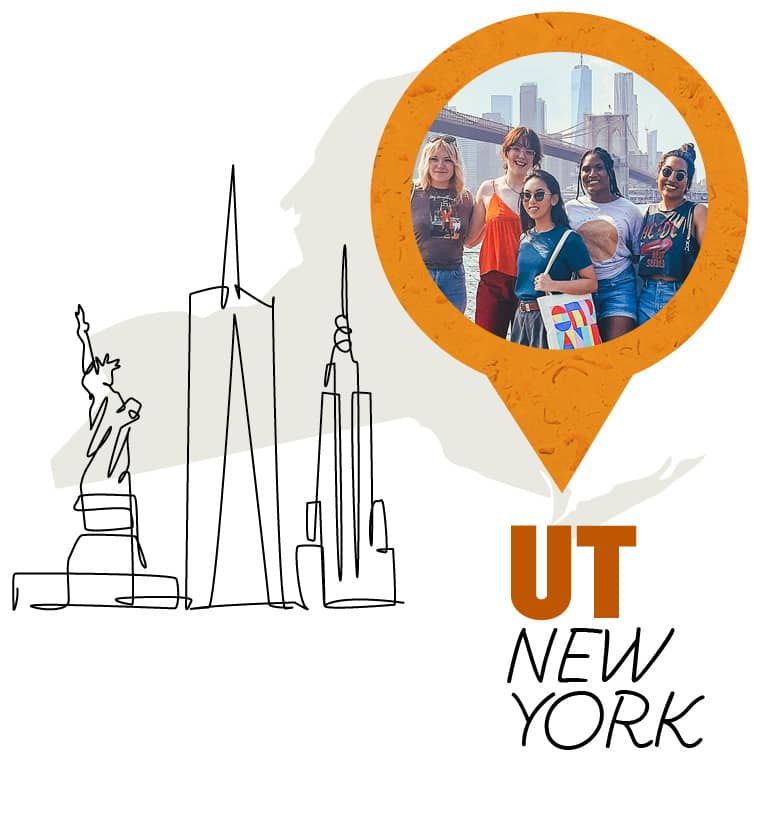 It's those New York-based alumni who have made this experience possible for young Longhorns looking to make their mark on the world. Juliet Berkowitz, B.S. '86, was one of UTNY's first philanthropic supporters. She moved to New York the day after graduating from UT's Moody College, and later became a fashion industry leader, working as an editor for magazines like Vogue and Mademoiselle and in publicity for Christian Louboutin.
"Anything you want to do in New York, you can find it," Berkowitz says. "In a globalized world, where everything is connected, you need to see things from a global perspective. New York offers that opportunity."
Steve Houston, B.A. '89, agrees. The Houston native and College of Liberal Arts graduate moved to Manhattan for his first job on Wall Street, and provided a leadership gift to launch the UTNY program in 2019. "New York is the absolute best springboard to go and explore opportunities," he says. "You're really well-equipped, especially with a degree from UT."
Learn more about helping young Longhorns follow their dreams in New York by contacting Allison Dawson, chief development officer, at allison.dawson@austin.utexas.edu.
Back on campus, first-year and returning students alike are starting the university's UTeach program. Since 1997, UTeach has prepared students pursuing STEM majors to become educators with a unique course sequence that includes observation and teaching in a local classroom from their first semester.
That innovative model, developed entirely by science, technology, engineering, math and teaching faculty at UT Austin, has proven to be so successful that the university created the UTeach Institute, which has helped 50 other universities replicate it in 23 states and the District of Columbia.
UTeach programs have produced more than 7,600 graduates who stay in teaching longer, improve their students' performance in math and science, and even influence their students to enter STEM fields. In fact, research shows that a first-year teacher trained through UTeach is as effective as one with over ten years of experience.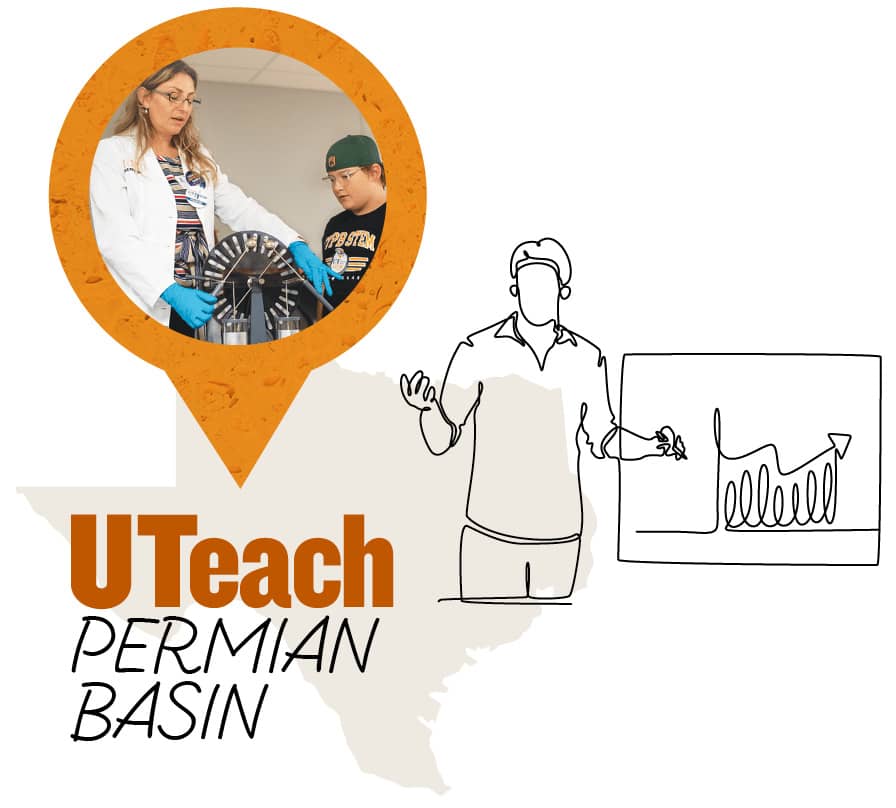 This month, one of the newest UTeach programs enrolled its first students. UTeach Permian Basin was made possible by a $1.9 million investment in the UTeach Institute and UTPB's UTeach operations from the Permian Strategic Partnership, which is chaired by Don Evans, B.S. '69, MBA '73, Life Member, Distinguished Alumnus.
The Permian Strategic Partnership, a coalition of leading energy companies, partners with community and educational leaders in the region to improve its residents' quality of life. A program like UTeach will be a game-changer for the Permian Basin, where "we have a lot of potential for people to go into STEM fields — engineers, chemists, geologists," says Associate Professor Milka Montes, co-director of UTPB's program. 
"Here in the Permian Basin, our workforce is highly dependent on STEM-trained professionals," Evans says. "UT's UTeach program has an excellent track record and is highly regarded across the country. UTeach Permian Basin has the potential to double the number of STEM teachers in our region annually, and the STEM careers they'll impact lead to higher earning potential, greater innovation and a stronger economy."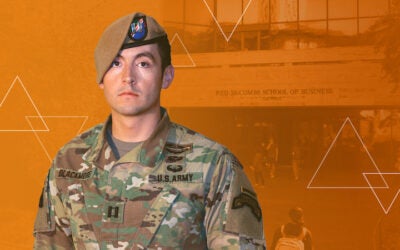 The Warrior National Foundation supports special operations veterans mastering business at Texas McCombs.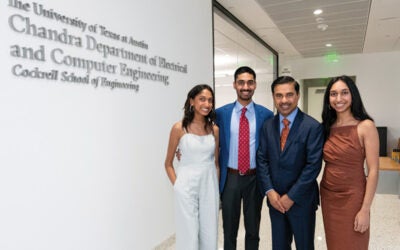 The Chandra family leaves a legacy of philanthropy and impact.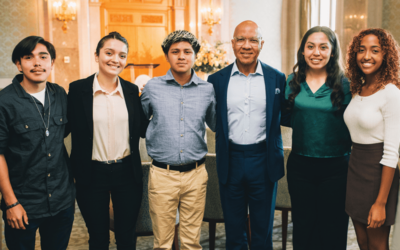 The inaugural class of Darren Walker Scholars meets their namesake and sponsors.