Opportunity of a Lifetime
Phil Canfield, BBA '89, knows a good investment when he sees one.
As a managing director at private equity firm GTCR, he explores ventures in high-growth industries like media and technology. But he says there are even better opportunities out there.
"The highest ROI investment you can make is creating access for students to get great educations," he says. His own story makes the case. "When I went to The University of Texas in the 80s, my tuition was less than $1,000 a year. And the Business Honors Program gave me all the fundamental skills I needed to launch a multi-decade career as a private equity investor.
"That was an investment that the university, the McCombs School of Business and BHP made in me, and I feel like it's time for the university to get a dividend on that investment."
This fall, Canfield and his wife Mary Beth made a $20 million gift to McCombs to support what is now known as the Canfield Business Honors Program (BHP). BHP is a small, selective experience within the undergraduate BBA program. Cohorts of 120 students per class year take small, seminar-style classes with some of McCombs' most experienced and accomplished faculty members.
"BHP really offers students the best of both worlds," says Jay Hartzell, dean of the McCombs School of Business. "They get a small community, top faculty, interactive classes — and all the things that a top business school at a research university provides, like a great alumni network, great access to recruiters and a full college experience."
The Canfields' gift will support the program, increase the scholarship offerings available to BHP students, and invest in marketing and recruitment efforts to raise the name recognition and profile of the program across the country — attracting even more top talent and increasing the value of every BHP degree.
"We are second to none," says Andres Almazan, a professor of finance and economics and faculty director of BHP. "That said, there are places outside Texas where we could be better known. This is an opportunity of a lifetime for the program."
"This is just another indication of what the McCombs education means to our alumni. Giving is more than dollars — it's personal, and it really means something. Phil and Mary Beth's gift has been making a difference since the minute they gave it."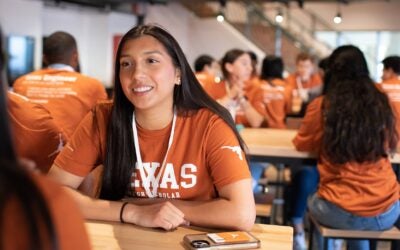 A new cohort of Linford Scholars is starting their studies in the Cockrell School of Engineering thanks to a transformative investment from Michael and Erika Linford.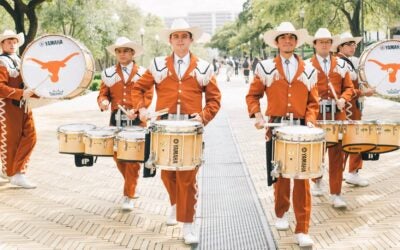 The generosity of Longhorn Nation keeps the Longhorn Band marching on to its 125th year and first year in the SEC.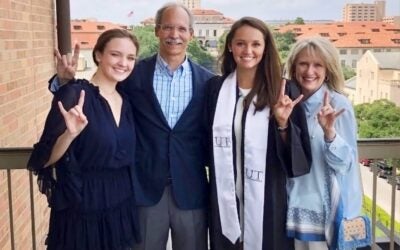 Fort Worth philanthropists and Longhorn parents John David and Leslie Moritz are giving back to the UT social work students who care for our communities.