Dell Med: First Class and the Future
"My wedding day was the happiest day of my life," says Sue Cox. "My second happiest day will be when the first class of Dell Medical School students graduates."
Cox is an obstetrician/gynecologist, the executive vice dean of academics and chair of the department of medical education at Dell Med. She has been called the key architect of the school, which opened in 2016 and graduates its first class this month.
Cox started her medical career at Baylor College of Medicine, where she did her residency in OB-GYN. After completing her maternal-fetal medicine fellowship at UT Southwestern, she joined the teaching faculty there.
"I think I was born to be a teacher because I just love it," Cox says. "As a clerkship director, I was like a mother to 200 medical students each year. They were like sponges, so eager to soak in everything."
She held many leadership roles at UTSW that prepared her for her new role in Austin. Cox arrived in 2011 as UT Southwestern's dean for Austin Graduate Medical Education programs.
Soon, state Sen. Kirk Watson and leaders at the UT System asked her to help develop the groundwork for UT Austin's own medical school. She formed community committees and a task force to draft the curriculum and start the accreditation process, then became one of Dell Med's first full-time employees in 2014.
Photos courtesy of Dell Medical School
Cox relished the opportunity to create an innovative curriculum. "We use a lot of team teaching and case-based curriculum and offer early exposure to clinical medicine," Cox says. The curriculum also includes leadership courses, research opportunities and the opportunity for dual degrees in medicine and business, education, engineering, health care value, fine arts or public health.
In 2016, a life-changing event prompted Cox and her husband, Doug Morris, to think about the impact they personally wanted to make in health care. "My mother passed away," Cox says. "We began reviewing our wills. I always say, 'you can't take it with you,' and Doug likes to add, 'but you can leave it behind for others.' We made a decision to support Dell Med in our estate plans."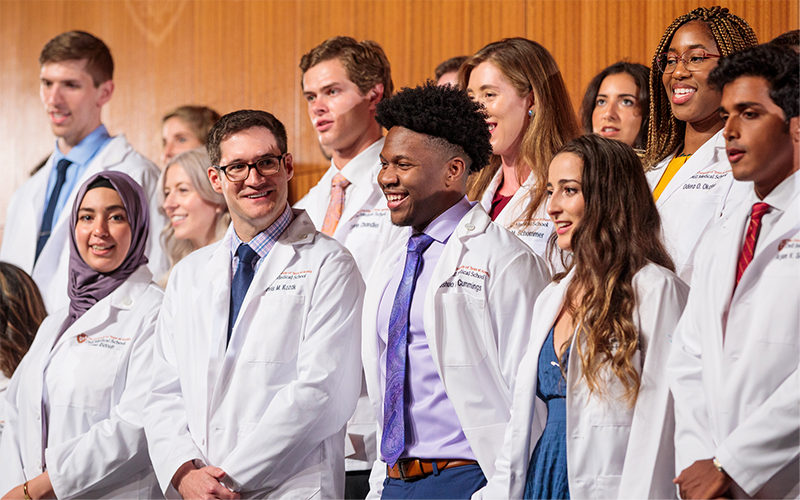 Every member of Dell Med's first graduating class successfully matched to medical residencies. Nearly 45% will stay in Texas, and over half will specialize in primary care.
Cox and Morris had already made gifts to create a scholarship for Dell Med students and the Susan M. Cox, M.D., Academy of Medical Educators Fund. Their estate will add to that fund and also create the Susan M. Cox, M.D. and Douglas N. Morris Endowed Chair for Medical Education.
"There are a lot of great teachers in medical schools, but they're not recognized as they should be," Cox says. Through the combined impact of the fund and endowed chair, distinguished professors of Dell Med's Academy of Medical Educators will have financial support for things like research and continuing education. And Cox's successors will have the resources needed for recruitment, retention, scholarship and innovation that supports Dell Med students well into the future.
"Dr. Sue Cox has been my leadership coach and mentor during my time at Dell Medical School. She is an incredible role model. Her encouragement, feedback and advice throughout medical school have helped me to develop a stronger skill set in leadership and patient advocacy that I will continue to use as a physician."

Emily Niewiarowski
Fourth-year Dell Med student and member of the inaugural class
This story was previously published in a slightly different form in the Winter 2020 issue of Texas Leader Magazine.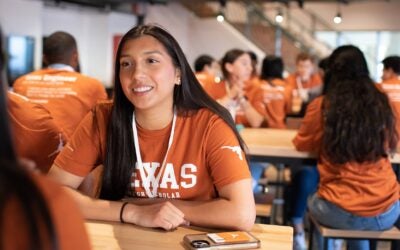 A new cohort of Linford Scholars is starting their studies in the Cockrell School of Engineering thanks to a transformative investment from Michael and Erika Linford.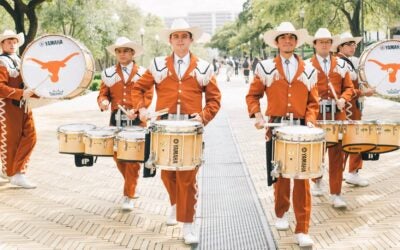 The generosity of Longhorn Nation keeps the Longhorn Band marching on to its 125th year and first year in the SEC.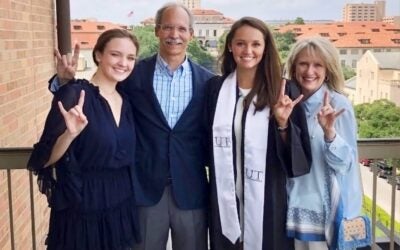 Fort Worth philanthropists and Longhorn parents John David and Leslie Moritz are giving back to the UT social work students who care for our communities.