Austin has long been a center for music, film, food, and culture. The University of Texas at Austin is leading its transformation as an international art destination.
Every eye in the art world turned to Texas in 2018, when UT's Blanton Museum of Art unveiled Ellsworth Kelly's Austin, the final work and only building of the major American artist.
Austin, which was made possible by generous alumni and other donors, was covered internationally by outlets like the New York Times, ArtForum and the Financial Times—a step up to the world stage for the Blanton. But it was just one of many recent breakthroughs for the arts at UT, the city of Austin, and the state of Texas.
That's because the university's art collections are public—not just campus—resources.
With a collection of more than 19,000 works of art, the Blanton is the largest public collection in Central Texas. As the primary art museum for the city of Austin, it welcomes more than 200,000 visitors every year. And as UT's art museum, it is an educational resource for students and faculty across campus and a training ground for future leaders.
Landmarks, the university's award-winning public art program, includes more than 40 works from the most admired and promising artists of our time. Sculptures, photographs, drawings, murals, installations and videos—some commissioned for UT, some on long-term loan from the Metropolitan Museum of Art—are displayed across the Forty Acres and are seen by more than 70,000 people each day.
Above, L-R: detail of The Color Inside, James Turrell; Clock Knot, Mark di Suvero; Circle with Towers, Sol Lewitt. Photos courtesy of Landmarks
Landmarks continues to be recognized as one of the most important public art programs at an American university. In 2019 it won its fifth national award from Americans for the Arts as part of a program recognizing the country's most compelling public artworks. Landmarks continues to grow its public programs and conservation efforts and will launch a campaign this spring to expand educational initiatives and reach new and more diverse audiences.
Last year, the Blanton announced plans for a reimagination and transformation of the museum's grounds, which will provide a world-class experience for visitors and connect campus to a growing, vibrant cultural district that will include the Capitol Complex, state museums and the university's new Moody Center arena.
These plans for the future have drawn incredible local support from friends like Austin's Still Water Foundation, which recently announced dual $5 million gifts to support the Blanton and Landmarks. Each gift includes a $2 million match to encourage others to support these important institutions.
"Landmarks and the Blanton represent outstanding programs at The University of Texas," says Jill Wilkinson, president of Still Water. "In making these gifts, our hope is to raise the visibility of the visual arts on campus and encourage broad participation in their fundraising campaigns. These programs are jewels in our community that we should all be excited to experience and support."
"For over 130 years, the Forty Acres has grown and evolved with each generation," says UT Austin President Gregory L. Fenves. "The Still Water Foundation is leaving their own creative imprint on our historic campus, one that will be appreciated and enjoyed by students, scholars and visitors at UT for decades to come."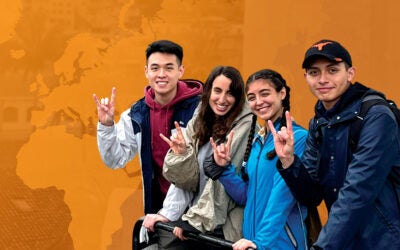 Five years after its founding, take a look at the impact of UT's President's Award for Global Learning on students, faculty and communities around the world.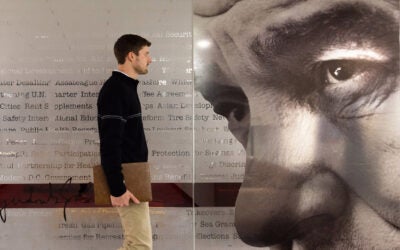 Ambassador Carrin F. Patman builds on her family's legacy of public service with a historic investment in UT's LBJ School for Public Affairs.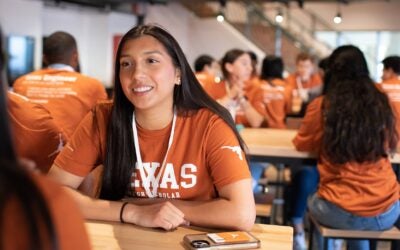 A new cohort of Linford Scholars is starting their studies in the Cockrell School of Engineering thanks to a transformative investment from Michael and Erika Linford.