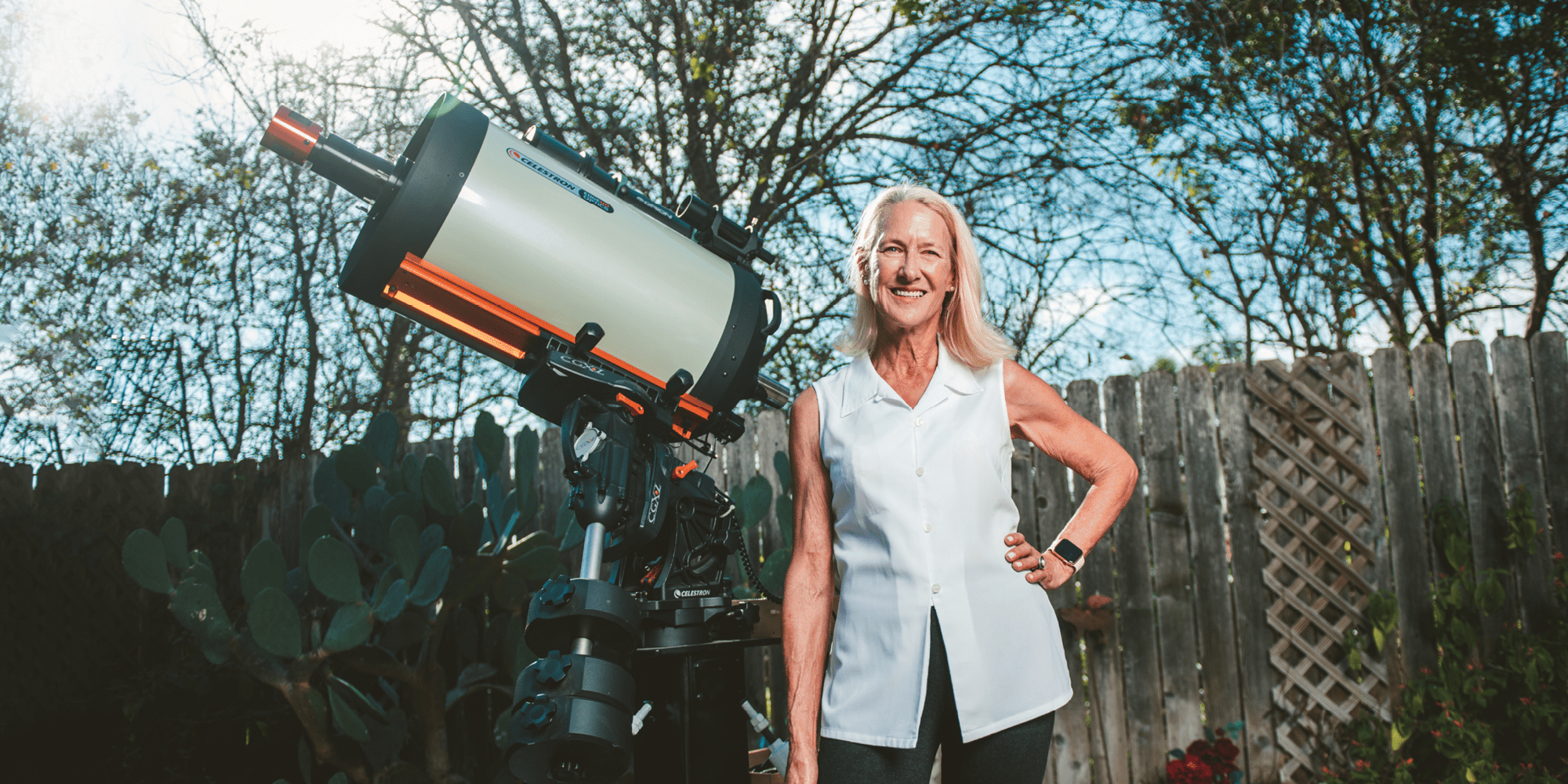 Anne Marie Adkins, B.A. '75, is supporting the future of astronomy.
Photo: Sloan Breeden
"Graduate students are key to attracting world-class faculty, so my gift will help elevate education and research one graduate student at a time."
"I can't imagine a childhood without the night sky," said Anne Marie Adkins, B.A. '75, amateur astronomer. Anne first peered through her Aunt Carol's telescope at Saturn's rings and Jupiter's moons at the age of six. In her aunt's backyard, nestled in the Alamo Heights neighborhood of San Antonio, Anne's love for the night skies and science took hold. That love would inspire her years later to establish a planned gift to support graduate fellows in astronomy at The University of Texas at Austin.
"In the 1960s it was unusual for a woman to have a professional telescope like my Aunt Carol had," said Anne, who now treasures that telescope as part of her personal collection. "She was an adept amateur astronomer, and I would sit with her and watch meteor showers or locate the two satellites that were in orbit back then. I think it is so important for kids to get an inclination toward science at an early age, and my aunt as well as my parents fostered that in me."
Anne was a star high school student and soon embraced the variety of offerings at UT. She excelled in a wide range of courses, such as pre-med sciences, real estate law, philosophy, political science and Spanish — and she ultimately earned her degree in government. Anne believes liberal arts taught her to think critically and truly prepared her for life's journey.
"I consider myself a constant student, and that started at UT," Anne explained. "When I cease learning, I won't be alive any longer. I'm always reaching out to learn new things."
After launching a successful career as an organizational development and management consultant, Anne had the time and resources to pursue her lifelong interest in stargazing. "I became a scope-toting amateur astronomer with dreams of imaging faint galaxies," she said.
She was eager to learn and joined the Austin Astronomical Society, where she found a network of people just as eager to teach her. She traveled the state, country and even the world to attend star parties.
"The LBJ School prepares bold, fearless leaders and scholars who are able to adapt well in the face of adversity to improve their communities."

— Rachel Dunlap, LBJ School graduate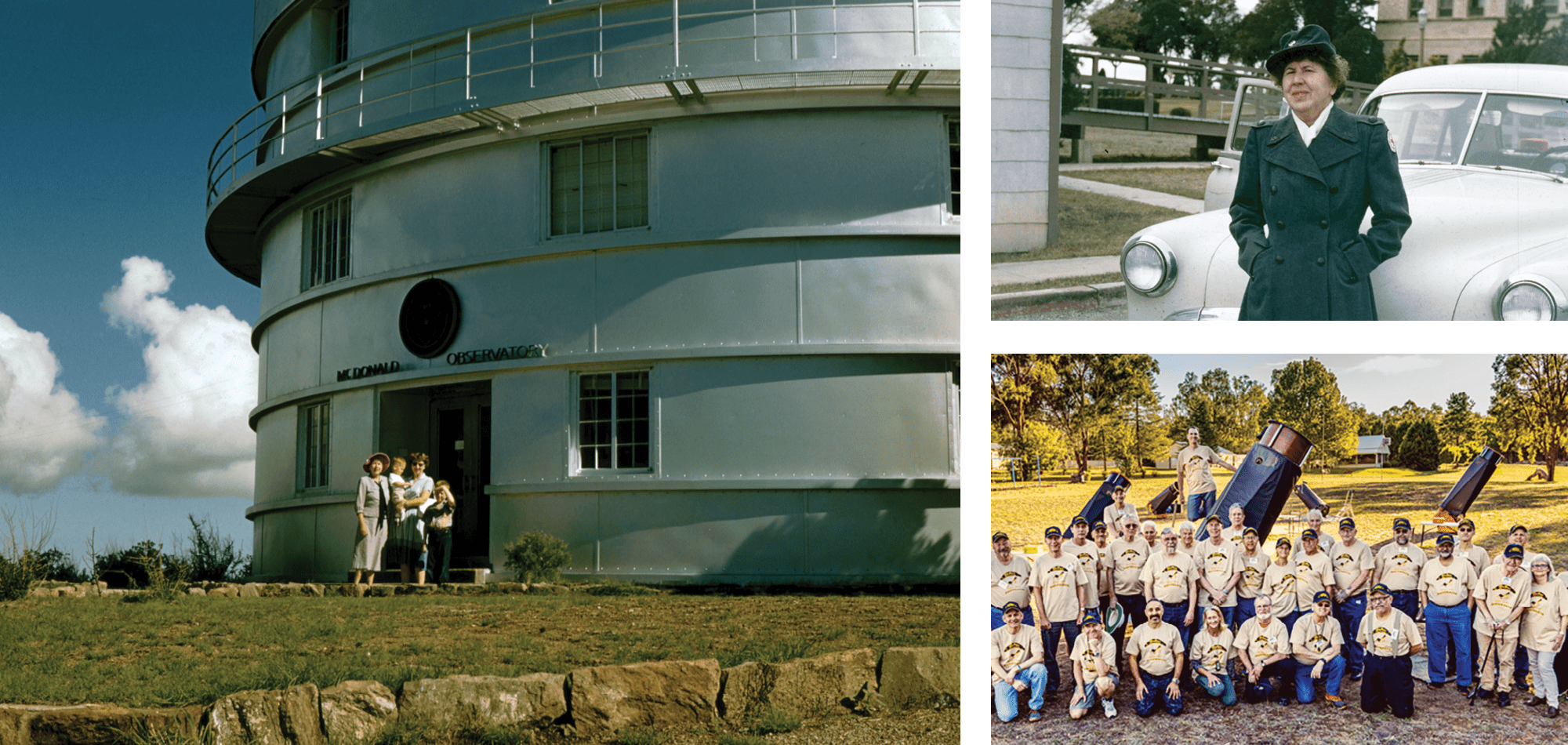 Clockwise from left: Aunt Carol (left) with members of Anne's family at McDonald Observatory in 1952, Aunt Carol volunteering with the Red Cross, Anne (front center) at a star party in Australia.
"Early on I realized that there weren't enough women in astronomy. For example, I was only the third female member of the AAS in a group of 100 members. That was crazy to me. Why were there so few women? It reminded me of Beatrice Tinsley."
Beatrice Tinsley is one of Anne's heroes. In 1968 Dr. Tinsley earned her Ph.D. from UT, where she was the only female astronomy student. She published groundbreaking research on the evolution of galaxies that changed predictions about the future history of the universe. While some astronomers felt that the universe's expansion would eventually slow down and then reverse itself, Dr. Tinsley concluded that the universe would expand forever. After her death, Dr. Tinsley's ideas gained wide acceptance.
"I became so enthralled with her story," Anne said. "And as I began thinking about leaving a legacy gift to UT, I wanted it to support the Beatrice M. Tinsley Graduate Fellowship in Astronomy — and my hope is that it will encourage more women into the field. The first recipient of this fellowship will be named this year.
"Giving to an endowment for graduate students may not seem glamorous to some, but to me it is," Anne said. "These are the kids who are doing the science. And UT faculty need talented graduate students to help conduct research and publish findings. Graduate students are key to attracting world-class faculty, so my gift will help elevate education and research one graduate student at a time. I think it's one of the best paybacks on your expenditure."
Today Anne looks forward to the world reopening for safe travel so she can attend more star parties. She lives in Fort Davis and can see the domes of McDonald Observatory from her house. Anne serves on the observatory's Board of Visitors and supports efforts to have the Big Bend area designated as the largest Dark Sky Reserve in the world.
And she continues to do what she loves. Anne takes her newest telescope out to Big Bend-area parks to educate the public on the importance of dark skies, and to help visitors view what's in the sky on that particular night.
"I consider myself very lucky to still be standing here, gazing upward," she said.
Get Started
When you include UT in your estate plan, you create global leaders, drive discovery and change the world. You also protect assets, provide for those you love and receive tax-wise benefits.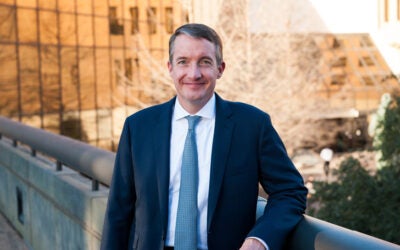 Achieving milestones is an excellent moment to look forward and set goals for the future.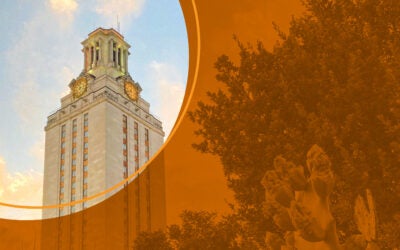 Alumni share favorite UT memories and why they support the Forty Acres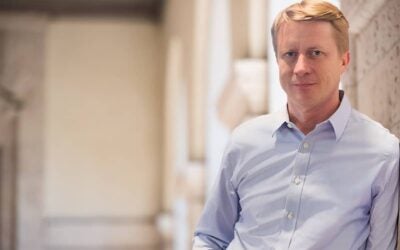 Bjorn Billhardt decided to be a Longhorn after he came to the Austin area in the '80s as a teenager on a foreign exchange program.