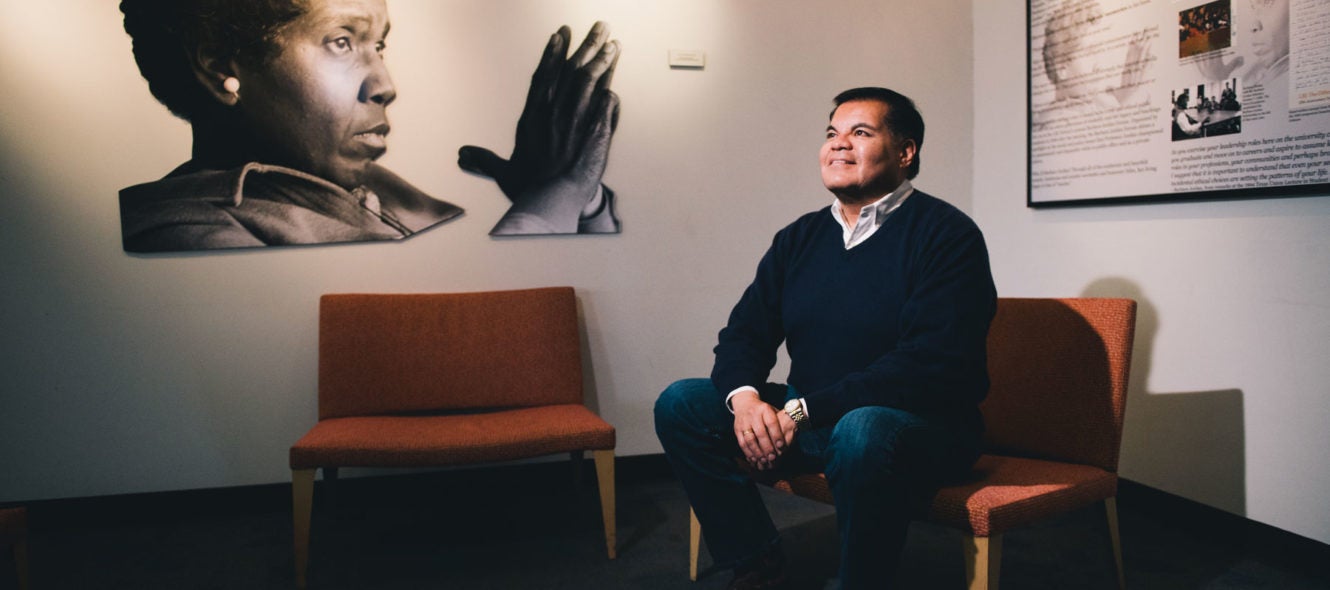 Mario Espinoza at
the LBJ School of
Public Affairs
Giving
Back
to the
Future
Mario Espinoza has a message for fellow alumni
A 30-mile stretch of I-35 led Mario Espinoza to a new world. "I was preparing for my move from San Marcos to Austin and my mom said, 'Ay, mijo, you're going to live so far away!'" he recalled with a chuckle. Espinoza, a first-generation college student who received a degree in business at Texas State University, had been accepted to the LBJ School of Public Affairs. His parents were beyond proud.
"As soon as I stepped onto the Forty Acres, I began bleeding orange," said Espinoza. "UT has such an amazing reputation and I was humbled to be part of this life-changing university."
Espinoza found a dogged supporter in Elspeth Rostow, former dean of the LBJ School. She encouraged him to earn his MBA and master's in public affairs simultaneously. "She saw more in me than I saw in myself," he shared. "Having people like her, who believed in me and opened my eyes to opportunities my family wasn't familiar with, made all the difference."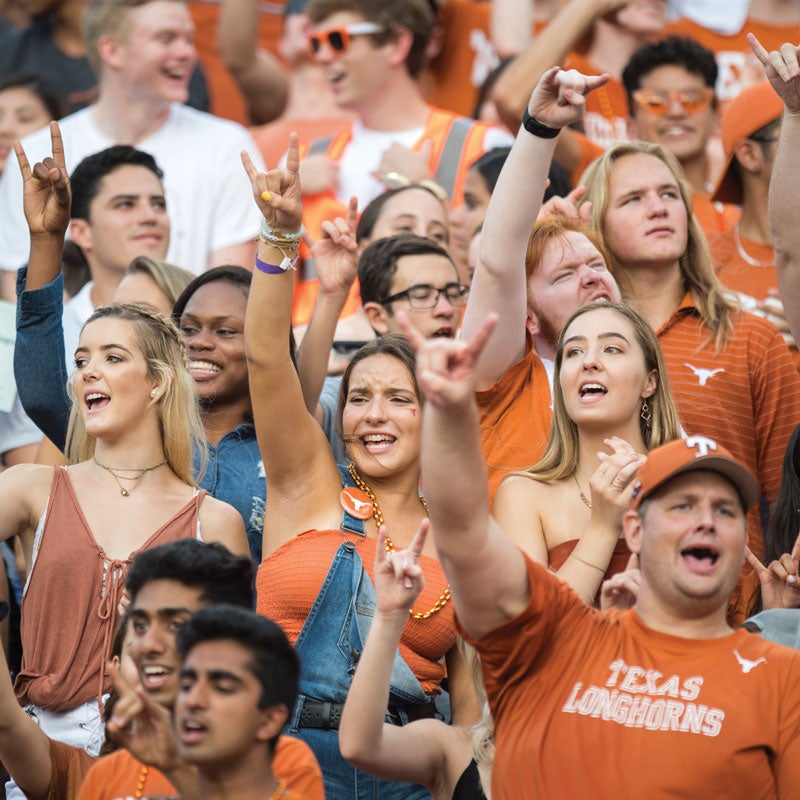 Espinoza received financial support through the LBJ School's J.J. "Jake" Pickle Scholarship Program and experienced the workings of government firsthand as a paid intern in the late congressman's Washington, D.C. office. He liked seeing the impact that public service made. And he enjoyed the experience even more on the local level. He worked in the Austin city manager's office where he became a go-to resource and problem-solver for city staff and local residents alike. He then worked at Lower Colorado River Authority and Central Texas Regional Mobility Authority before retiring and starting his own consulting practice.
"There are so many areas
at UT to support —
dig deep and pick one."
"I've been blessed with an education that has given me many opportunities, and I've benefited from the support of others, so I always knew in my heart that I was going to give back to UT," he said.
Espinoza established a planned gift through his estate to support scholarships for student-athletes. He is a season ticket holder for Longhorn baseball, volleyball and football — he hasn't missed a Texas-OU football game since he stepped foot on campus in 1985.
"UT student-athletes have brought so much joy and excitement to my life, and I want these students to be supported," said Espinoza. "As much as I'm cheering on our athletes, I'm also cheering for my university. No matter the score, we always win because we're UT graduates."
Espinoza chose to support scholarships because he didn't want students and their parents to be afraid of an education at Texas due to finances.
Because it's an issue so dear to him, he established another scholarship for Hispanic undergraduate and graduate students through the Texas Exes. He intends for his gifts to fill financial gaps, like those he had as a student.
"Since my graduation, my niece and my cousin's children have also graduated from UT. All have benefited from scholarships and fellowships, so I thought of them, too, when I decided to give back."
His decision to assist future generations of Longhorns is one he wants fellow alumni to strongly consider and act upon. That's why Espinoza was willing to share his story.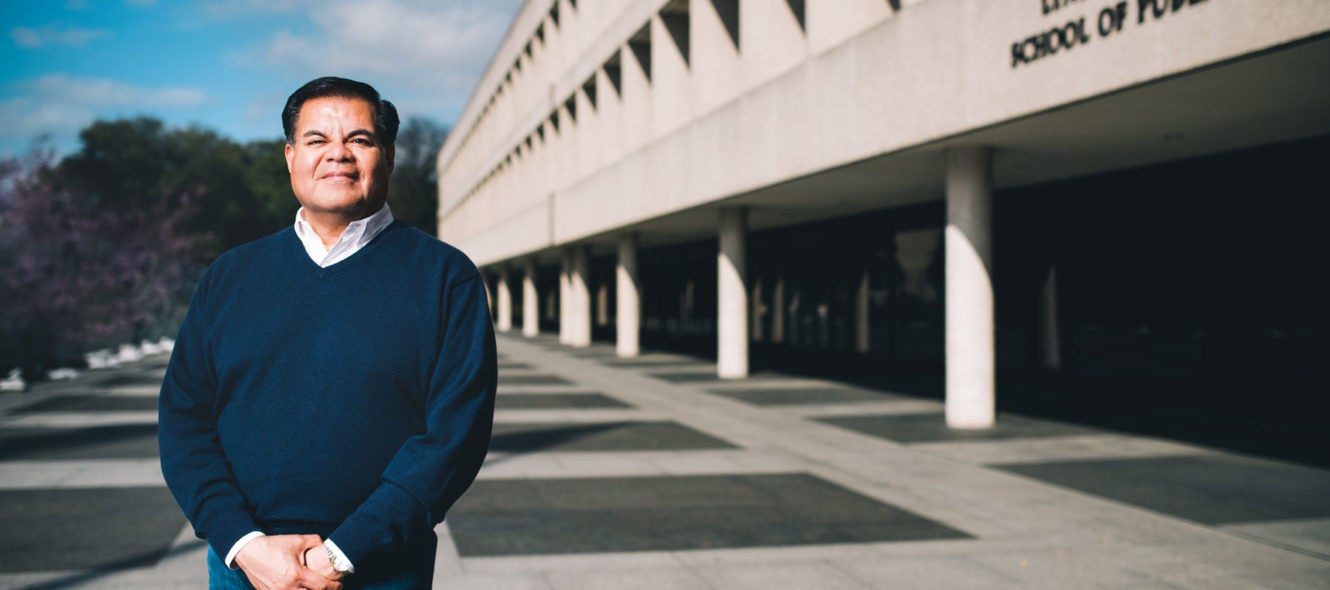 Mario Espinoza believes in the collective power of giving and participated in an inspiring panel on donor diversity and inclusion at UT.
Photos:
Sloan Breeden, Marsha Miller, Texas Exes
"It has been our privilege to attend this university, and it's now our duty to help those students that follow us," he said. "Giving back is a simple process. There are people on campus to walk you through planned giving and there are so many areas at UT to support — dig deep and pick one."
"Mario is the quintessential Texan — he was born and raised here and is giving back to his beloved university. Folks like Mario help give Texas its proud reputation. He never strayed from his love for Texas and the Forty Acres, and we cannot thank him enough for his loyalty and support of Texas Athletics and UT over the years. What his support and generosity will do for Texas will live on forever."
Chris Del Conte
Vice President and Athletics Director,
The University of Texas at Austin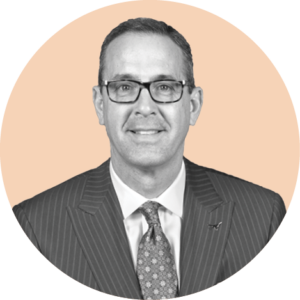 Give Now