The history of Texas is full of big dreamers, often from humble backgrounds, who worked hard and became the leaders we know today.
At The University of Texas at Austin, the University Leadership Network (ULN) serves first-generation and low-income students who are working hard to become leaders of tomorrow. Through a unique program that combines scholarships with experiential learning opportunities, academic resources, leadership training and professional development, ULN ensures that these students get the support they need to thrive personally, succeed academically, and graduate in four years.
UT can't do this work alone. Here, we look at a partner whose support makes ULN a success—and whose storied history connects great Texans of the past with the future leaders of our state.
A Thriving Texas
Houston Endowment
The contributions of Jesse H. and Mary Gibbs Jones can be seen all over Houston. Their support of business, infrastructure, education and arts shaped the vibrant city we know today. But perhaps their greatest legacy is their service to others—what the Joneses' generosity did, and continues to do, for people in Houston and across Texas through Houston Endowment.
Even early in his career, Mr. Jones knew that his business interests would prosper in a thriving community. At the height of a financial panic in the early 1900s, he invested in the future by helping to develop Houston's central business district and ship channel.
His contributions caught the eye of President Woodrow Wilson, who appointed Mr. Jones to the leadership of the American Red Cross during World War I. Over the next few decades, Mr. Jones would continue his public service in Washington, D.C., serving as the chair of the Reconstruction Finance Corporation during the Great Depression and as the secretary of commerce.
Through all of that, Mr. and Mrs. Jones supported the city of Houston through significant gifts to colleges, hospitals and other organizations in the area. In 1937 they established Houston Endowment, a foundation that continues to support Houston and its people to this day.
"The Joneses always wanted to do everything they could to increase opportunity for the people in Houston, especially people who were marginalized or underserved," says Ann Stern, B.A. '79, J.D. '82, Houston Endowment's president and CEO. "They saw education
as one of the most important pathways to that opportunity."
Through Houston Endowment, the Joneses funded scholarships for students of all backgrounds, races, and genders as early as the 1940s. The Jones Scholars Program, founded in 1958, built on that tradition for many years.
More recently, the foundation's desire to support college persistence and completion for low-income and first-generation students in particular, as well as the University Leadership Network's early successes, made a partnership with the ULN a natural fit, says Stern.
"We considered ourselves 'early investors' in the ULN," she says. "We were excited to help the program establish a track record of success and demonstrate its viability."
The Jones Scholarship supports virtually all ULN students from the Houston area­—fully 25 percent of the students in the program.
"I'm so appreciative to Houston Endowment for funding my ULN scholarship and giving me the opportunity to focus on my education. I have learned so much in my time here, from being an Orientation Advisor to studying abroad in Vienna, where I learned firsthand the vital role memory plays in constructing culture. That experience heightened my ability to connect with people from other cultures—a skill I hope to use in medical school and when I become a doctor one day. ULN laid the foundation for me to accomplish all of that."
Confidence Koboo
Senior, Biochemistry
Starting in the 2015-16 school year, the Jones Scholars program transitioned to the Jones Scholars initiative within ULN. The Jones Scholarship supports virtually all ULN students from the Houston area—fully 25 percent of the students in the program.
"ULN fundamentally changes the opportunities available for families in some of our most challenged communities," says Stern. "And beyond helping individual students and their families, ULN is strengthening an institution that can support so many more."
To that end, Houston Endowment has invested in the ULN model so the program can be scaled up. "Here's a program we believe is as impactful as any we've seen," says Stern. "These evidence-based approaches can benefit students across The University of Texas at Austin and serve as a model for other colleges and universities."
Investing in systems that support at-risk college students continues the Joneses' work of building a Houston and a Texas where everyone has the opportunity to thrive.
"I think Jesse Jones and Mary Gibbs Jones would be very pleased and excited by ULN," says Stern. "It gets to the heart of what they were trying to do."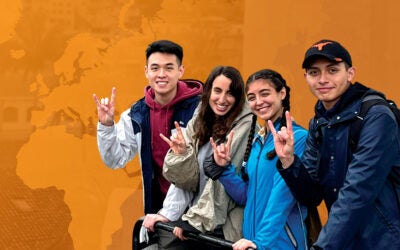 Five years after its founding, take a look at the impact of UT's President's Award for Global Learning on students, faculty and communities around the world.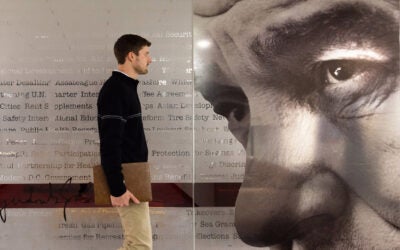 Ambassador Carrin F. Patman builds on her family's legacy of public service with a historic investment in UT's LBJ School for Public Affairs.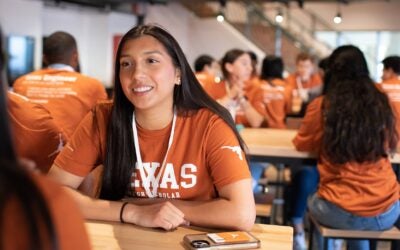 A new cohort of Linford Scholars is starting their studies in the Cockrell School of Engineering thanks to a transformative investment from Michael and Erika Linford.