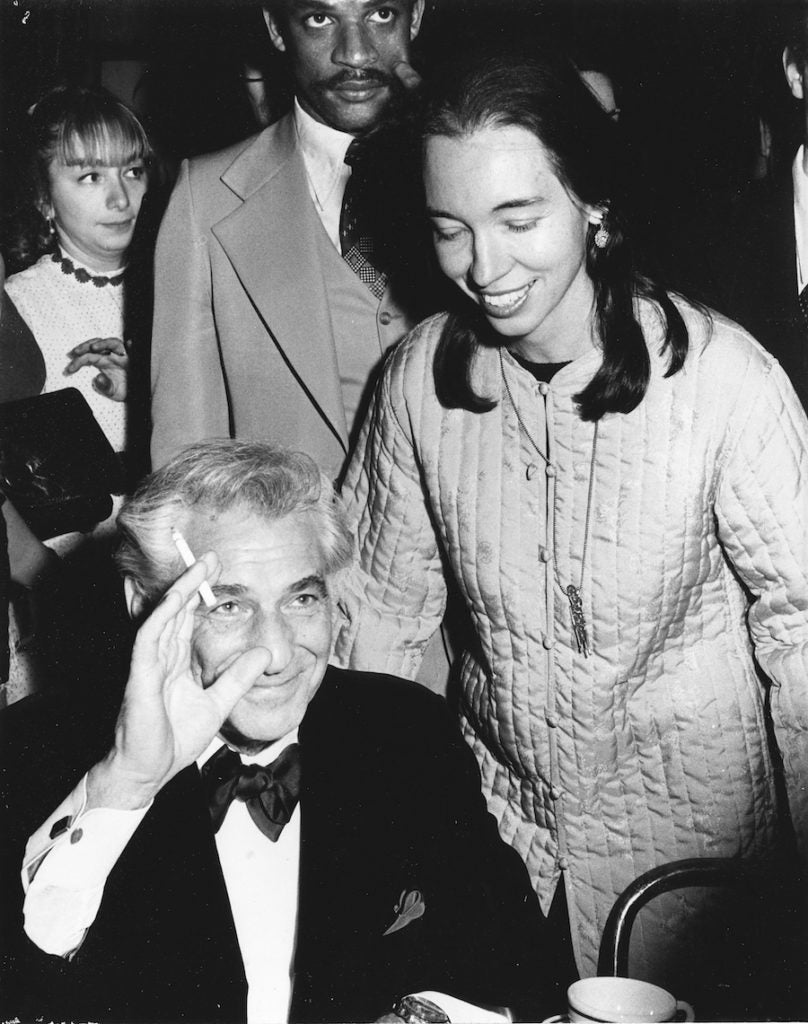 Communication triple-threat Betty Taylor Cox is giving back to the Moody College
(above) Betty Taylor Cox with Leonard Bernstein at the after-party of the 1976 Broadway premiere of 1600 Pennsylvania Avenue. Cox was Coca-Cola's liaison during development and production of the show, which Coca-Cola funded to celebrate America's bi-centennial.
When most people think about The University of Texas at Austin in 1951, "diversity" is not the first word that springs to mind. But diversity is relative, and to Betty Taylor Cox, diversity meant people who were not from Dallas.
"There were students who were working their way through, there were artists, people who had a different view of society, had different issues they cared about, so that we began to think about a broader world. One of my journalism classes had one of UT's first African-American graduate students, and one of the issues I remember was what the Texas Legislature then called the 'red books bill,' with books to ban in Texas. We met the world here," she remembers.
Cox's education in the early 1950s would be a springboard to a multifaceted career in communication. Indeed, you would be hard-pressed to find any alumnus of the college whose career represents more of its disciplines. Journalism, advertising, film and video documentary work — she's covered the waterfront.
Now, Cox is giving back to the university, contributing out of her individual retirement account (IRA) to help the Moody College of Communication purchase a green screen for its Department of Radio-TV-Film. Green screens — walls or flats painted green — allow artificial backgrounds to be added to a scene. Also known as chroma key compositing, the technique has become fundamental to TV and film production. The construction of Texas' green screen started in June, and the result will be a seamless wall 20 feet tall and 70 feet long with a full 90-degree rounded corner. Other donors to the project include William Bollinger, Joe Phillips, and Larry Safir.
In addition, through two charitable gift annuities, Cox's generosity will benefit the Moody College now and in the future, and provide her income during her lifetime. Betty is planning these gifts, along with a bequest, to make the greatest impact on the Moody College, while meeting her own financial and philanthropic goals.
Cox's first year of college was spent on a music scholarship at The Hockaday School in Dallas.
She then came to Texas as a piano major. "I was practicing three hours a day, and they decided that I was not destined for the concert stage." (Still a music lover, she plays cello in two community orchestras in the Metroplex.) Her attention turned toward journalism. "From a personal standpoint, I wanted to know more about the world. I had been on newspapers in high school and thought I was a good writer. I went into journalism so I could see the world, be part of it, make an impact on things."
In journalism school and at The Daily Texan she found her calling. "I believe that journalism has the power and responsibility to change attitudes. A democracy depends upon the free press. If we're ever going to solve our problems and have peace in the world, we're going to have to have journalists there telling both sides of the story," says Cox, who still reads two or three newspapers each day.
She was so impatient to see the world that she and four friends, most from The Daily Texan, skipped their 1955 graduation and hopped a former Italian troop ship to Europe, traveling and staying in youth hostels for three and a half months. The young women would pass her portable typewriter from lap to lap, as they drove. They rented a French car, and soon wondered at how friendly the French were, waving to them as they came through the first town. A bit late, they discovered it was the finish line of the Tour de France. (They stopped in time.) Later, a transmission problem forced them to drive only forward for the rest of the summer, never backward — a fitting metaphor for the rest of her life.
From the 1955 Geneva Summit Conference — where the four Daily Texan journalists outnumbered reporters from The New York Times — she filed stories with the Dallas Times Herald, then went to work there as soon as she came back. "In those days, if you were a woman your beat was 'women's news,' which at that time was just a place to put wedding pictures, obits and few other things," she recalls. "But my editor, Vivian Castleberry, was determined that we would provide real news." She developed confidence in interviewing, and wrote features for the city desk. "I went undercover as an alcoholic at an AA convention, when it was a story that there were women alcoholics." Her series made the front pages.
But her alma mater would have one more influence on her path. "The thing that made Texas so special was its instructors. I had professors who took a personal interest and played a role in my life." One of those was legend Dr. DeWitt Reddick. After Cox graduated, Reddick, a fellow Presbyterian, kept suggesting jobs outside her hometown. "He wanted to uproot me from my comfortable life in Dallas to work for the Presbyterian Church U.S.," which Reddick served on various boards.
In Nashville and later Atlanta, Cox handled media and publications for the church's Boards of World Missions and National Ministries during the Civil Rights movement's beginning, covering the 1967 "Poor People's March" in Washington, D.C., that began LBJ's War on Poverty and events as colonialism ended in Africa, sharing reports from their missionaries in the former Belgian Congo through UPI's wire service.
The next chapter of her career opened when an acquaintance, an ad executive at Coca-Cola's Atlanta corporate headquarters, told her he needed her there in marketing. "I hesitated after working on life-and-death issues … " But go she did, and there learned about the corporate world and filmmaking, as one of the company's first female executives. She produced short films for the company's brand managers and for nonprofits they supported — the United States Olympics, etc. — before leaving to start her own production company, The Communications Department, Inc.
Her company, with offices in Dallas and New York, was hired by the United States Postal Service to produce basic training tapes for mail carriers and its first sexual-harassment tapes. She and her crew documented Superfund sites nationally for the EPA and produced training videos for communities and first responders, marketing and fundraising films/tapes for corporations, colleges and nonprofits across the country. Several won CINE Golden Eagle awards as the best non-theatrical films of the year, and represented the United States internationally.
"I give to the university and the journalism school because I do believe we are what this country was founded on — as communicators we help make possible a free press and the exchange of ideas. There's no substitute for what students learn here," she says. "That experience at UT allowed me to help influence things in a changing world. And with my gifts to the university and the Moody College of Communication, I can continue to be a part of it."