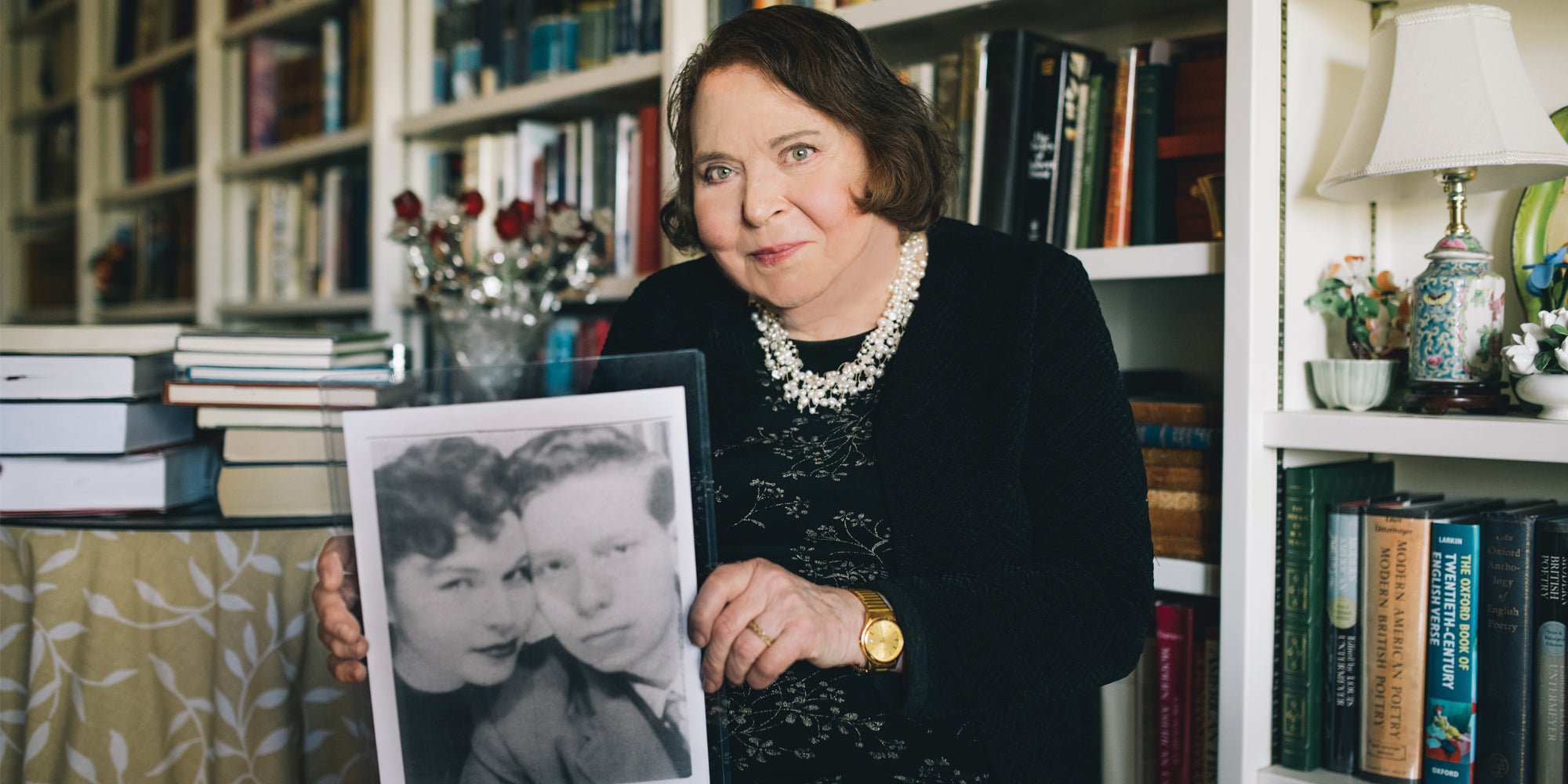 Forty years ago, as a young professor, I was offered the opportunity to teach at The University of Texas School of Law — a place that was on the minds of every law student and professor in the country at the time. The Supreme Court had ruled on the highly influential case of Sweatt v. Painter, declaring that separate facilities could never be equal at the UT School of Law. With UT's celebrity faculty, its splendid facilities, all handsomely appointed, and one of the world's greatest law libraries, there was no way I could refuse the offer — even though it meant parting from my husband. Steven was a world-famous physicist and Nobel laureate, and there was no way he would ever leave Harvard and our dear little house in Cambridge.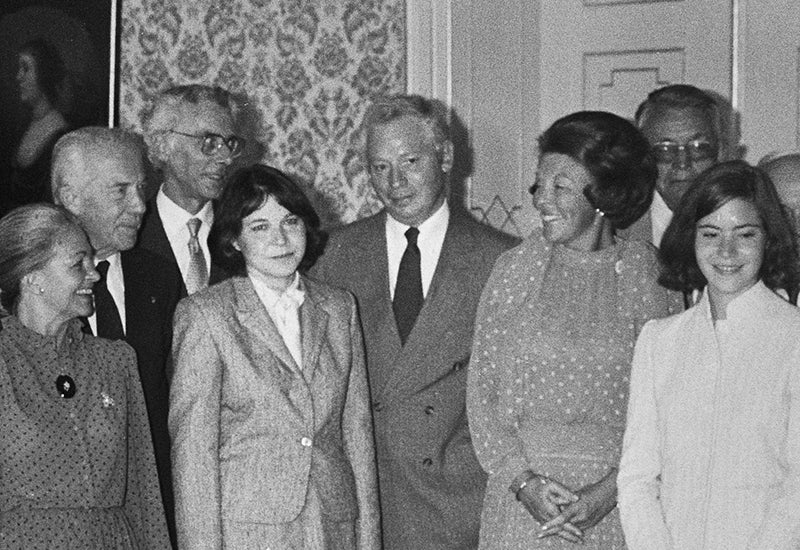 Louise and daughter Elizabeth (far right) accompanied Steven (center) to the Netherlands, where Queen Beatrix received Nobel laureates on August 31, 1983. Photo: Rob C. Croes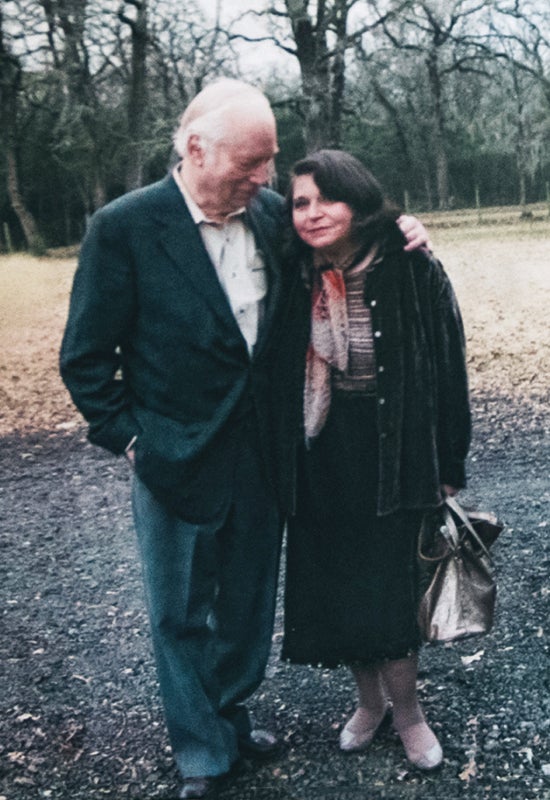 Married in 1954, Louise and Steven enjoyed more than 65 years together.
We thought it would be possible for us to get by, rejoining each other in Cambridge for Christmas and summers, and he would fly into Austin to visit me when possible. It was difficult for us, but we managed. When my husband was in Austin, we invited our new colleagues to parties and little dinners — we had such fun! The physicists were as friendly as the lawyers. The physics department at UT was a fine one, with colleagues Steven knew and admired. We were meeting people not only within our departments, but from all walks of life: politicians, authors, actors. And there was the dear, sweet Texas friendliness. The country music. Mexican food, which was even better then than it is today. And the wonderful theaters, symphony, ballet and the opera as well.
And then a funny thing happened. Steven realized he was having more fun in Austin than in Cambridge. Imagine getting on a plane on a freezing wet February day in Boston and arriving in Austin to cheery Texas sunshine and smiling folks who said, "How're you t'day?" and "Can I help ya with that bag?" In those days, the old County Line was barbecuing on the premises, and the whole parking lot smelled delicious. They could smoke beef ribs for 18 hours and still keep the meat rare. Steven would get off the plane and say, "Take me to County Line."
Two years after we parted, my husband decided he loved Austin, UT and me more than he loved Harvard, and applied for a professorship in the physics department here. President Peter Flawn interceded and found donors who could match the salary my husband had at Harvard. They created a chair for him with research funding. It was sufficient to create the Theory Group he directed, which rapidly became a primary mover in the world of physics and cosmology. Steven brought physicists into the world of astronomy, astronomers into the world of quantum physics, and put UT at the center of such ferment. Without the support of the community, none of this magic could have happened.
We went everywhere together. He would accompany me on my travels to the American Law Institute in Philadelphia, or to Washington, D.C. or New York or San Francisco. He was constantly traveling around the world, leading the whole profession of quantum theorists in a massive effort to unify all of the laws of nature. And his effort succeeded. Today all the forces of nature are described by one mathematics, with the single exception of gravity.
I'm now retired, and Steven is gone. When I miss my husband too much, I go to YouTube, type in his name, and one of his distinguished lectures pops up. It is a great comfort to me. It is also a great pleasure to me to have helped establish lectureships of that kind right here at UT, in his name and in mine.
"The physics department has offered its first honorary Steven Weinberg Lecturer to the very physicist my husband would have chosen. You can imagine how proud I feel."
– Louise Weinberg
While it is prudent that I maintain my financial security in my lifetime, the gift officers at UT have helped me to see I can leave some of my assets in my will to establish honorary lectureships and illustrious chairs. The deans of the physics department and the law school thought it a wonderful idea to have an honorary lectureship and prizes to bestow. Each contributed matching funds, allowing UT to get started on my idea right away. The physics department has offered its first honorary Steven Weinberg Lecturer to the very physicist my husband would have chosen. You can imagine how proud I feel.
These days UT is more important than ever, with engineering and business schools ranked at the very top in this country, prestigious law and physics departments, and the continued affection and backing of Austin's wonderful community. Austin draws the country's best and brightest, with down-home friendliness and the whole community's support for our great university at the core of that magnetism.
"The progress of science has been largely a matter of discovering what questions should be asked."
— Steven Weinberg
In July 2021, the world lost one of its most prolific contributors to the field of physics. Through his research, teaching and writings, Dr. Steven Weinberg forever transformed our understanding of the origin and nature of the universe.
Dr. Weinberg joined the faculty of The University of Texas at Austin in 1982. In his role as a professor and researcher, he elevated the university's status and set the stage for future generations' advancements in physics, in fields ranging from astronomy to quantum mechanics. He built a theory group that earned a reputation of excellence worldwide and turned the ninth floor of UT Austin's Physics, Math and Astronomy Building into a thriving intellectual hub and destination.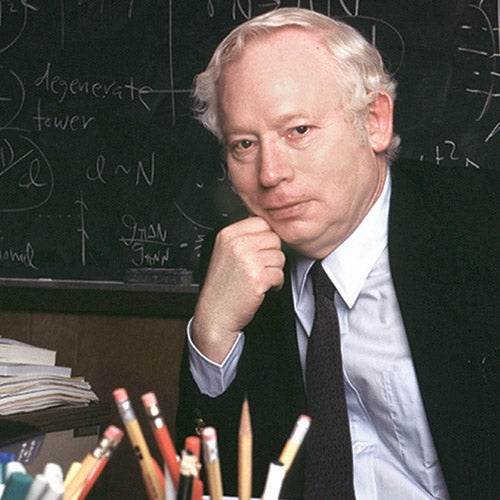 Over nearly four decades, Dr. Weinberg and his colleagues trained generations of theoretical physicists, many of whom are now professors at premier universities and leaders in finance and technology.
To commemorate his life, work and significant contributions to the depth of human knowledge, UT Austin recently established The Weinberg Institute for Theoretical Physics. The institute will support future breakthroughs in physics by supporting the work of talented graduate students and postdoctoral scholars, and by attracting scientists to the university to continue Dr. Weinberg's legacy.
On March 21, 2022, Frank Wilczek, the Herman Feshbach Professor of Physics at MIT and 2004 Nobel laureate in physics, delivered the first in a planned series of memorial lectures. The institute's inaugural triannual conference is scheduled for spring 2023.
Contributions to UT's College of Natural Sciences will ensure
Dr. Weinberg's legacy continues to drive future innovation and discovery. Visit
cns.utexas.edu/giving
.
Get Started
When you include UT in your estate plan, you create global leaders, drive discovery and change the world. You also protect assets, provide for those you love and receive tax-wise benefits.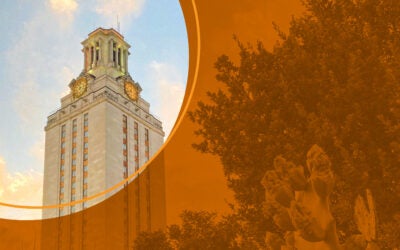 Alumni from the College of Natural Sciences, McCombs School of Business, and the College of Liberal Arts share favorite UT memories and why they support the Forty Acres.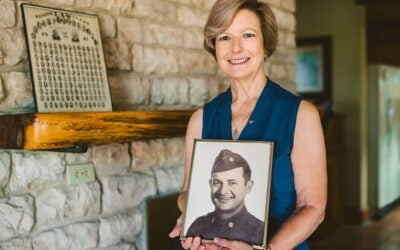 Carrying forward a father's Longhorn love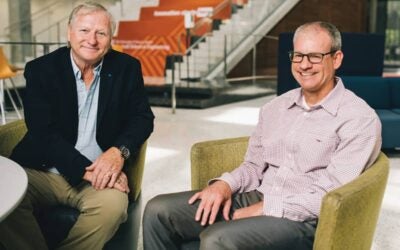 Friendship among faculty on the Forty Acres