Alumni and friends of UT are transforming the student experience through their support of scholarships, curriculum and cocurricular activities.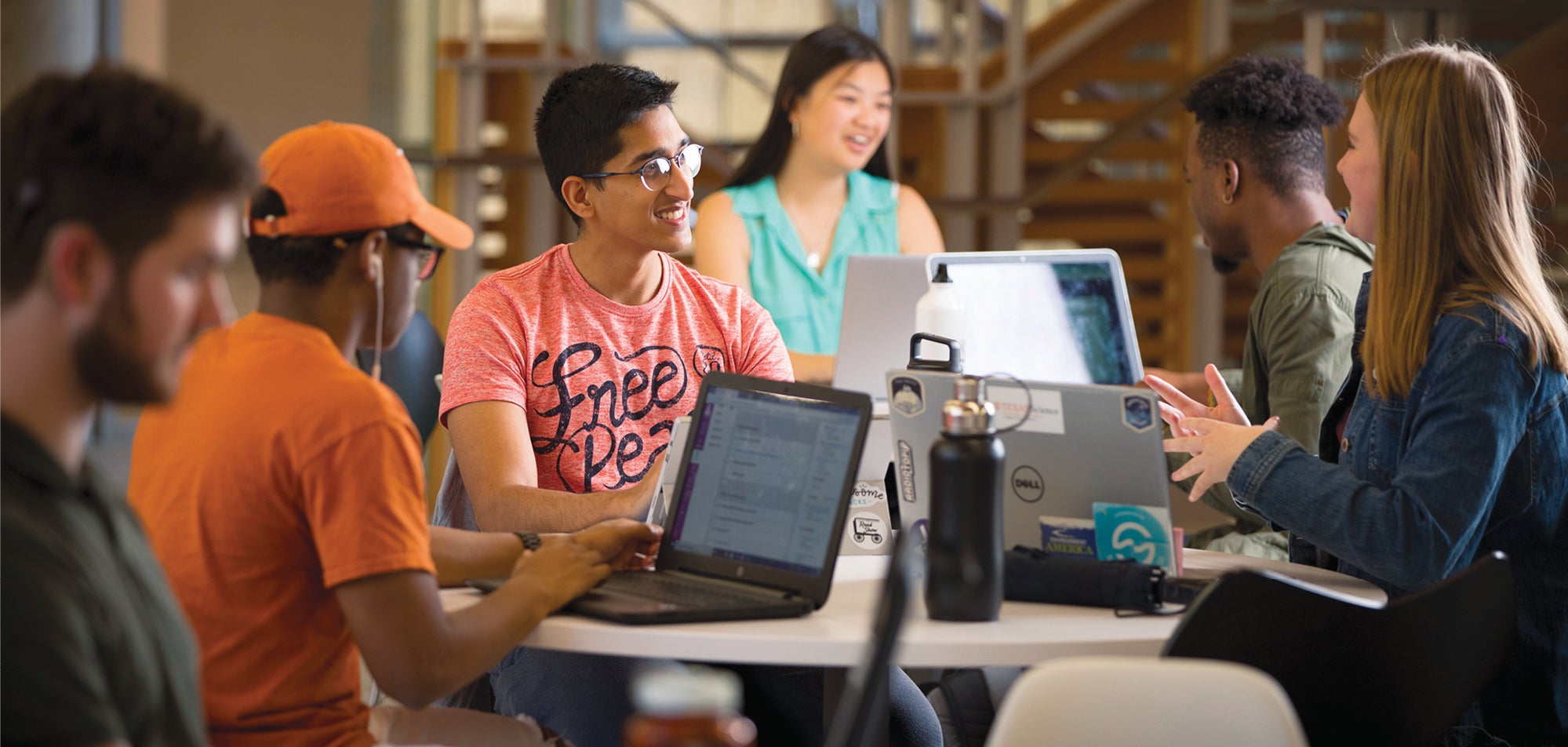 For many alumni and friends of The University of Texas at Austin, the most meaningful way to give back is by supporting UT students. That generous support can take many forms: creating scholarships that open a door to the Forty Acres, building innovative programs that prepare Longhorns for tomorrow's top jobs, or even providing exceptional cocurricular opportunities. Learn more about how our alumni and corporate partners are investing in top Texas talent at UT.
Longhorns Helping Longhorns
SCHOLARSHIPS
The University Co-operative Society has been an iconic institution since 1896. Longhorns love The Co-op—and The Co-op loves them back. This summer, the 126-year-old nonprofit made a $10 million commitment to support UT students from low-and middle-income families. Their gift will grow the UT Co-op Undergraduate Scholarship, which was matched dollar-for-dollar by the university's Texas Challenge, and provide $500 stipends for books and supplies to more than 1,500 students per year
"We're excited to support Longhorn students with scholarships to help cover the cost of course materials and set them up for success," says Co-op president and CEO Cheryl Phifer. "The Co-op was founded to provide UT students with course materials, so this was a natural way we could continue to grow our positive impact on them."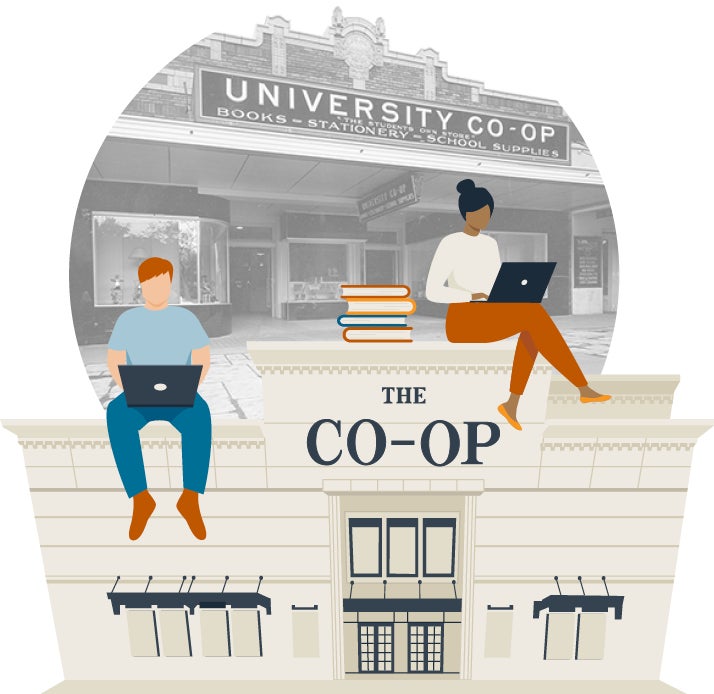 The Co-op has served UT students since 1896. Today, they support Longhorns with expanded access to education and affordable learning resources.
Educating Tomorrow's Leaders
Curriculum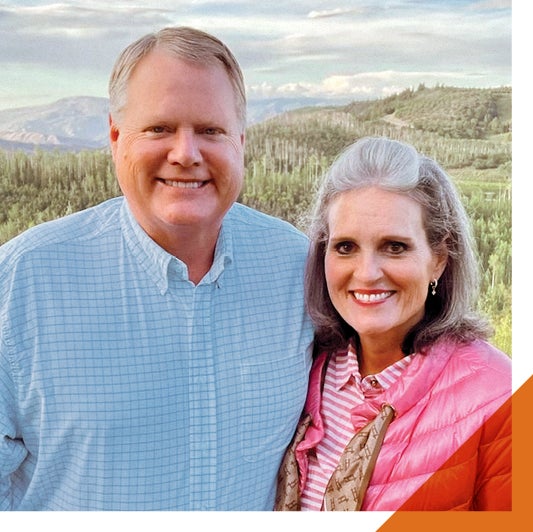 Alumni and friends also transform the student experience through investing in innovative educational programs. Mary Pat Nelson, B.A. '86, and her husband Jim, both longtime supporters of the Moody College of Communication, have invested $5 million in a new academic center that will help Moody students develop the cutting-edge skills they need to succeed in today's job market and innovate in their fields.
The Nelson Center for Brand and Demand Analytics, part of the Stan Richards School of Advertising and Public Relations, expands Moody's offerings in the emerging discipline of business to business, or B2B, marketing analytics.
"UT already has one of the largest and highest-ranked advertising and public relations programs in the country," says professor Matt Eastin, a founding co-director of the center. "The Nelsons' support is making an excellent program even better and gives our students industry-ready skills in addition to the strong foundation of knowledge they gain in their programs of study.
"The Nelsons' gift will support a new degree certificate in brand and demand analytics, as well as an industry partners program to connect students with leading industry partners across Texas. It will also give faculty members specializing in media analytics, digital media, branding, social media, entrepreneurship and innovation support to conduct their research alongside students.
"Brand and demand analytics are used every day by businesses trying to identify new customers and engage with existing customers, so we feel like this center is an opportunity to keep UT and Moody College on the cutting edge," says Jim Nelson.
"The university has been great to our family," says Mary Pat Nelson. "This is our way of giving back."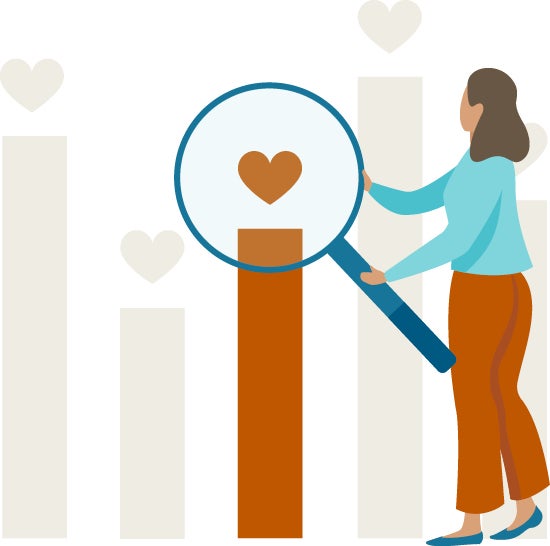 Campus for Champions
COcurriculars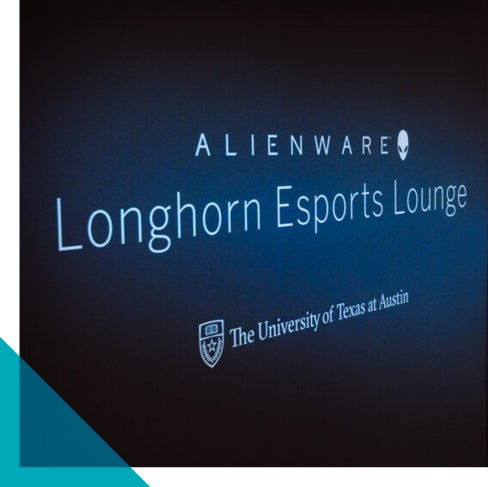 It's not just curriculum that shapes UT students' educations. Investments in campus spaces provide Longhorns with inspiring places to learn, create and build relationships.
Dell Technologies and UT have joined forces to open the Alienware Longhorn Esports Lounge, the university's first space dedicated to esports—organized, competitive video gaming. The lounge, located on the main floor of the Texas Union, will feature ten "battle stations" with Alienware's Aurora R13 gaming computers, four X-Station laptops and a console center. Dell Technologies is also providing technology for the Alienware Longhorn Esports Arena, a large-scale gaming space to open in the newly renovated Texas Union Underground in 2023. The permanent Esports Arena will house nearly 50 Aurora R13 and R14 battle stations as well as a varsity room, production center and viewing area.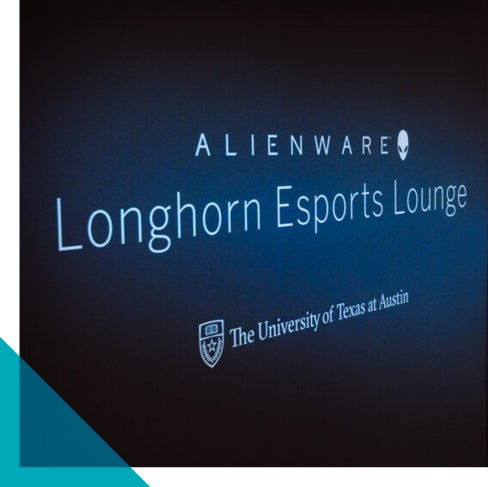 "Our partnership with UT is focused on making an impact in Austin by improving access to education, powering life-changing research, and supporting our community's unique culture," says Kristen Nolte, senior vice president at Dell Technologies. "The Alienware Longhorn Esports Lounge is an extension of that commitment and signals the growth and opportunity we see for students in esports—from becoming professional esports athletes to game design or development professionals."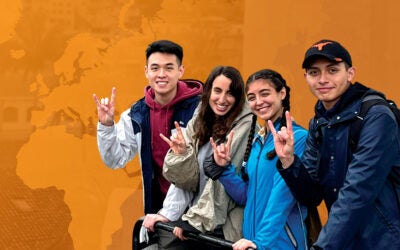 Five years after its founding, take a look at the impact of UT's President's Award for Global Learning on students, faculty and communities around the world.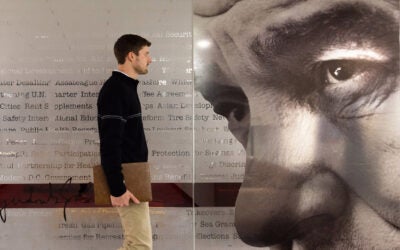 Ambassador Carrin F. Patman builds on her family's legacy of public service with a historic investment in UT's LBJ School for Public Affairs.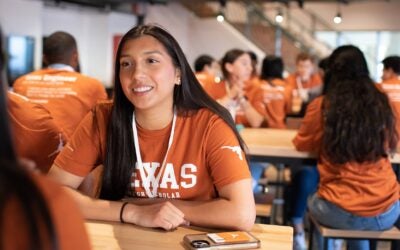 A new cohort of Linford Scholars is starting their studies in the Cockrell School of Engineering thanks to a transformative investment from Michael and Erika Linford.