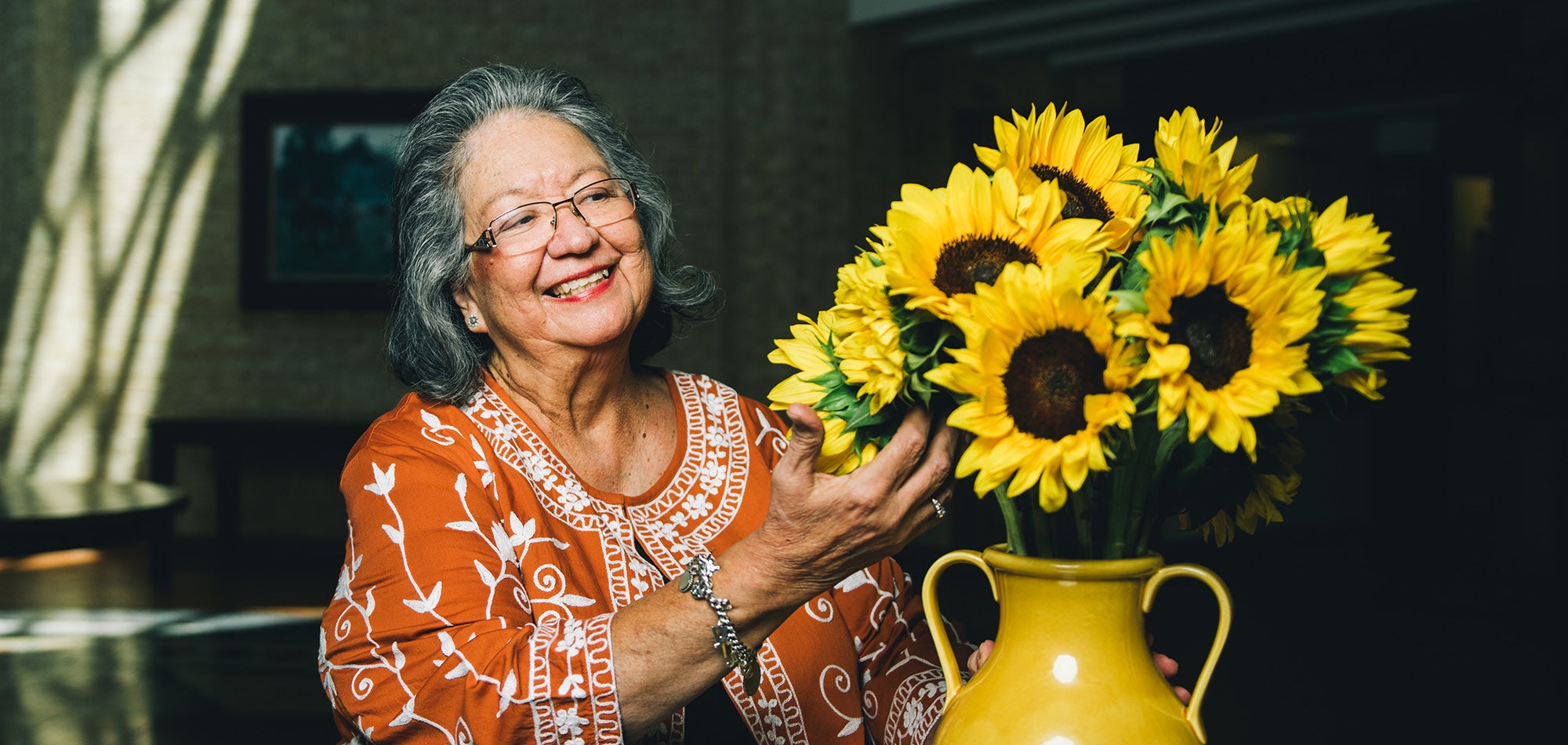 Susana created scholarships to help high-achieving students attend UT.
Photo: Sloan Breeden
D
ressed in burnt orange and Longhorn jewelry, Susana Alemán, B.S. '75, M.Ed.'78, J.D. '84, exudes passion for The University of Texas at Austin. But she is even more passionate about creating bright futures. This "Valley Girl" spreads her own brand of sunshine through scholarships — and sunflowers.
Susana loves the Rio Grande Valley. She was born in Edinburg and at the age of eight moved to Falfurrias, a city renowned for producing exceptional sweet cream butter (which explains why the school mascot is a Jersey cow). During these early years, her parents instilled in her a respect for education, and her competitive spirit drove her to make the honor roll. "I was fascinated by my civics class, and I also loved serving on the student council and playing drums in the marching band," she says.
Susana graduated first in her class. Despite that, a high school counselor told her she'd never make it at UT. "That only made me more determined to come to Austin," says Susana. "And it didn't hurt that it was around the time the Longhorns had won the 1969 national championship. I was hooked. I fell in love with the Tower, Bevo, all of it. I never applied anywhere else."
The next decades were devoted to education — both hers and others'. After receiving her bachelor's in education and master's in curriculum and instruction, Susana quickly put her skills to work teaching in Austin. She later returned to Falfurrias to teach at her former high school.
Her next step launched her legacy.
Sunflower Lady
Susana enrolled at the UT School of Law, a decision that married her love of civics and her desire to become an administrator in higher education.
"During my final year of law school, they announced that the school's assistant dean for student affairs was planning to retire, and I knew I wanted that position," recalls Susana. The timing was perfect. In Susana, the students found not only an academic advisor but also a caring supporter.
With her new role came a new nickname: the Sunflower Lady. For 22 years, Susana took to the Texas fields — and crawled under barbed wire fences — to gather hundreds of sunflowers for the law school's Sunflower Ceremony, a century-old graduation tradition in which a sunflower is pinned to the lapel of each new graduate.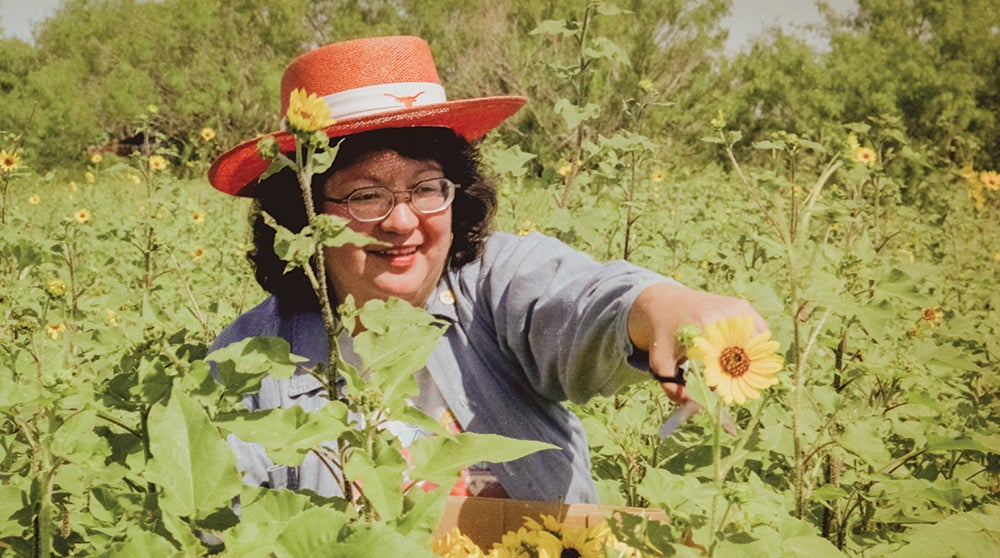 Susana picks flowers for the Sunflower Ceremony in 1996.
"It was my gift to the students, and I didn't want there to be any hiccups. I always made sure we had fresh wildflowers, no matter what I had to do to get them!" she says.
"One year Lady Bird Johnson was at the ceremony when her granddaughter graduated. During the ceremony, I assured Mrs. Johnson that even though I did pick the flowers, there were plenty left in the fields," she chuckles.
"To see the students reach their goal at this ceremony, you just can't help but be grateful that they had the opportunity to come get their schooling and to graduate."
Best Investment
Susana's ongoing support for students blooms across campus. She is on a mission to help other future Longhorns experience the power of a UT education.
"Being a Longhorn still makes me feel all tingly inside," she says. "Every year the university just keeps getting better, so that makes my degrees worth that much more. Scholarship support helped me, and I want to make sure other students have the same opportunities."
Through the Texas Exes, Susana created the Alemán-Wilson Challenge Grant Scholarship to assist high-achieving Mexican American students from South Texas who are pursuing degrees in education. It was named in honor of her mother and father, Elida Wilson and Manuel Alemán, her sister, Yolanda W. Alemán, and Benjamin Wilson, her uncle. Another scholarship, the Dean Alemán Law Scholarship created by UT's Chicano/Hispanic/Latino Law Students' Association, was named in Susana's honor after her retirement.
Recently, Susana has supported the Texas Exes and the UT School of Law initiative to make the school a more welcoming place for all. She allocated a gift in her estate to create the Dean Alemán Sunflower Lawhorn Scholarship — an investment in future generations of Mexican American law students.
"I want there to be a level playing field, and we're not there yet. Not in my lifetime, but at some point, we won't have a need for there to be scholarships for a specific ethnic group. And I'm hoping that these scholarships will assist in that process," she shares.
In September, Susana met her most recent scholarship recipient, Bobby Meza. "He's got so much going for him. It's so nice to be surrounded by these talented students who aspire to do amazing things. It made me realize that society is in good hands. I can't think of a better investment than in the higher education of students — in future generations."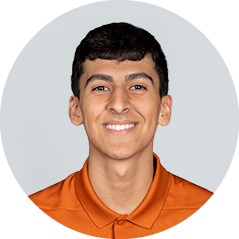 "Knowing I have been trusted with this scholarship means the world to me — and I can't wait to change the world. I'd like to thank Susana for being such a sweet soul and entrusting me with this scholarship. She is part of my journey, and I'll be sure to make her proud."
Bobby Meza, Alemán-Wilson Challenge Grant Scholarship recipient
Bobby is studying sport management and is a student manager for UT Men's Basketball.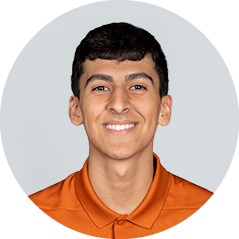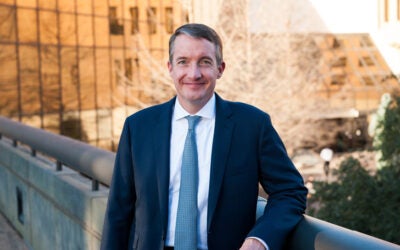 Achieving milestones is an excellent moment to look forward and set goals for the future.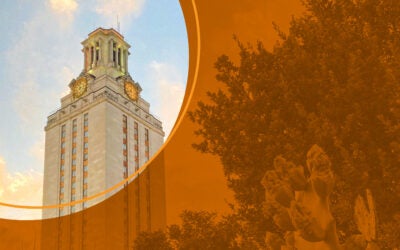 Alumni share favorite UT memories and why they support the Forty Acres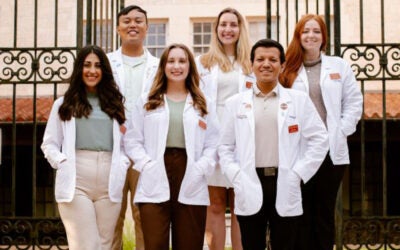 Marissa Schlaifer sees philanthropy as an obligation more than an opportunity. Her gift will open many doors for students in the College of Pharmacy.