Beatriz González, Apuntes para la historia extensa, continuación [Notes for an extensive history, continuation], 1968, oil on canvas, 39 ½ x 47 ¼ in., Blanton Museum of Art, The University of Texas at Austin. Gift of Judy S. and Charles W. Tate, 2016.
Photo Courtesy the Artist
Charles and Judy Tate's gift of Latin American artwork lifts Blanton Museum of Art even higher
At 5 o'clock on a Saturday in February, Charles and Judy Tate arrived at the Blanton Museum of Art at The University of Texas at Austin.
The Houston couple was early to the museum's gala and wanted to peek at the renovated and reinstalled permanent collection galleries. They climbed the stairs to the second floor, made two lefts, and stopped. There, they stood in silence and teared up as they saw for the first time the collection of Latin American art they had given to the Blanton. Although they had made the promised gift some two years earlier, this was the first time they had seen the sculptures and paintings they had collected over the previous 17 years integrated within the Blanton's collection. And when they considered everything that meant — from supporting a museum that for many students might be the first museum they experience, to elevating the Blanton's standing, to expressing their love and support for the university itself — "It was very emotional," Judy says.
In addition to the 120 modern and contemporary works, they also contributed
$1 million toward the endowment that supports the Blanton's position of curator for Latin American art. The total value of their gift to the Blanton was $10 million. Museum director Simone Wicha says, "A great museum is built on the foundation of a great collection and the strength of its curatorial team. The Tates' gift has single-handedly transformed the museum's collection, creating even more opportunities to engage and inspire our visitors through the presentation of Latin American art in our galleries. By strengthening the Blanton's endowment for its curator of Latin American art, the Tates have also ensured that the greatest expertise is brought to the research, teaching, and display of the museum's renowned Latin American collection."
If their names seem familiar, it might be because the Tates have been a power couple of UT Austin service and support for decades. Both have won the highest honor for Texas Exes, the Distinguished Alumnus Award. Both have served on the Development Board and the Blanton's board and have endowed numerous scholarships from fine arts to biomedical engineering.
"Because of the Tates, many key moments, ideas, and artists that were missing from our collection are now represented, and we can now tell a more expansive story …"
Judy, B.Ed. '73, has chaired the Blanton's National Leadership Board and is active with numerous UT organizations. For her, supporting the university is a deep family tradition. Her parents, Ralph and Mary John Spence, orchestrated the effort to acquire and then donate the Gutenberg Bible to UT's Ransom Center in 1975, and no fewer than 26 members of the Spence family are Longhorns.
By contrast, Charles, B.B.A. '68, was a first-generation Longhorn (the son of an Aggie, no less). But he has blazed a trail of leadership across campus matched by few others, including serving on the board of the University of Texas Investment Management Company (UTIMCO) and the university's visioning working group, the Commission of 125, which along with other service earned him a UT Presidential Citation. A health care investor with a highly successful track record — from Morgan Stanley to Hicks, Muse, Tate & Furst, and now Capital Royalty — Charles also has been inducted into the McCombs School Hall of Fame.
Nor are these the first treasures the Tates have donated to their alma mater or to the Blanton itself. In addition to the Tates having given Latin American artwork to the Blanton previously, in 1999 Charles and business partner Tom Hicks bought the diary of José Enrique de la Peña, a first-hand account of the Battle of the Alamo, at auction for $387,500 and donated it to UT's Briscoe Center for American History.
Perhaps the real story of this gift starts when Judy was in grade school in Tyler and "the picture lady," a Junior League volunteer, would visit her class with posters of the "Mona Lisa" and Monet's waterlilies and talk about art. Now, in a sense, Judy has picked up the picture lady's torch, awakening not 30 grade school students to the meaning of art but 50,000 college students and 150,000 Blanton visitors a year.
Charles' awakening to art came later in life but was just as strong. His early tastes ran toward western art and American landscapes, which he identified with as a Texan and enjoyed purely as decoration for his home and office. When Charles and Judy married, a love for their alma mater and a love for art soon melded into a plan: They would collect Latin American art, "a conscious effort to build a collection of paintings that related to each other," as Charles puts it, with guidance from one of the Blanton's curators and would eventually give the collection to the museum.
The Blanton was the first museum in the United States to establish a curatorial position devoted solely to Latin American art, which it did in 1988, when the museum still resided within UT's Art Building. How much sweeter, then, that the Tates' gifts are now displayed in the soaring environs of the Blanton's current facility, built 10 years ago. The curator who guided much of the Tates' collecting was Gabriel Pérez-Barreiro. "We traveled with Gabriel, who was educating our eye about the works," says Judy. Together the three went shopping in Argentina, Brazil, and Uruguay. Today Pérez-Barreiro is director and chief curator of the Colección Patricia Phelps de Cisneros based in New York and Caracas, Venezuela. "The Blanton already had significant exposure to Latin American art," Charles says, "so it was done very much to enhance the collection the Blanton already had."
"Not only did the Tates build an amazing collection," says the Blanton's current curator of Latin American art, Beverly Adams, "but they did so specifically with the Blanton in mind. This kind of thoughtful, engaged, and constructive generosity is both rare and remarkable. Because of the Tates, many key moments, ideas, and artists that were missing from our collection are now represented, and we can now tell a more expansive story of creativity and innovation in the region."
As for the future, the Tates are still collecting with an eye for what will further enhance the Blanton collection of modern and contemporary art from Latin America and position the museum to remain a leader in what is now a growing field. "We still have a few chapters to fill out. They just happen to be very expensive chapters!" Charles laughs.
Teresita Fernández, Stacked Waters, 2009, cast acrylic, 240 x 795 x 561 in. Blanton Museum of Art, The University of Texas at Austin. Gift of alumni, 2008.

And as for their inspiration to add toward the endowment for the curatorship, Charles explains, "There are a couple of areas of philanthropy that are very difficult to develop. One is maintenance funds, and another, in this case, a curator. It's easier to raise money for something that's physical that people can put their name on." But, Charles says, it is just as important to build the support structures so that in the future, institutions are not burdened by the proper upkeep of gifts.
For both of the Tates, the motivation to give not just to the Blanton but to the wider university runs deep. "The four years I spent at The University of Texas were the most significant in my life," remembers Charles.
"It's this period of time that's the bridge between when you're living at home with your parents and when you're expected to become a fully functioning adult. And it's a period of extraordinary change, just explosive. It's the most meaningful four years both in terms of what I learned and the friendships and relationships I made. It's like the university is part of me. It's part of who I am."
It's just as true for Judy. "I grew up in a household where my dad (a Texas Cowboy) had a UT brand on his chest. I knew from girlhood that this was a really important place. Fortunately, I got to follow their example of giving to the university and participating."
Says Judy, "Art holds us together as a people. Not everyone's a scientist or into technology, but I think everybody responds to art emotionally. Everybody responds to beauty."
"Giving to UT is one of the easiest things we do; we just wish we could do more," says Charles. "This is not a burden. We get as much back as we give."
When you include UT in your estate plan, you create global leaders, drive discovery and change the world. You also protect assets, provide for those you love and receive tax-wise benefits.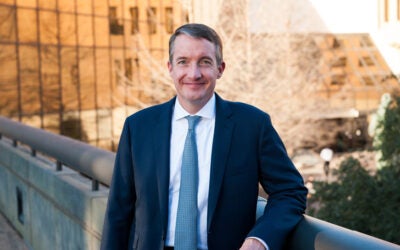 Achieving milestones is an excellent moment to look forward and set goals for the future.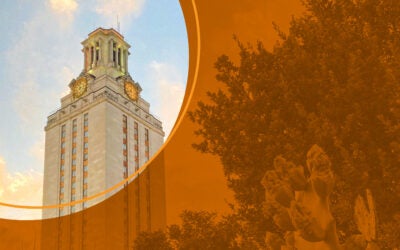 Alumni share favorite UT memories and why they support the Forty Acres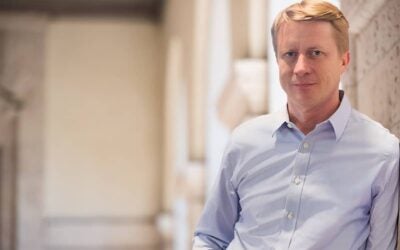 Bjorn Billhardt decided to be a Longhorn after he came to the Austin area in the '80s as a teenager on a foreign exchange program.