The Hearts and Minds Behind AI
Alumni seek better world through artificial intelligence research at UT.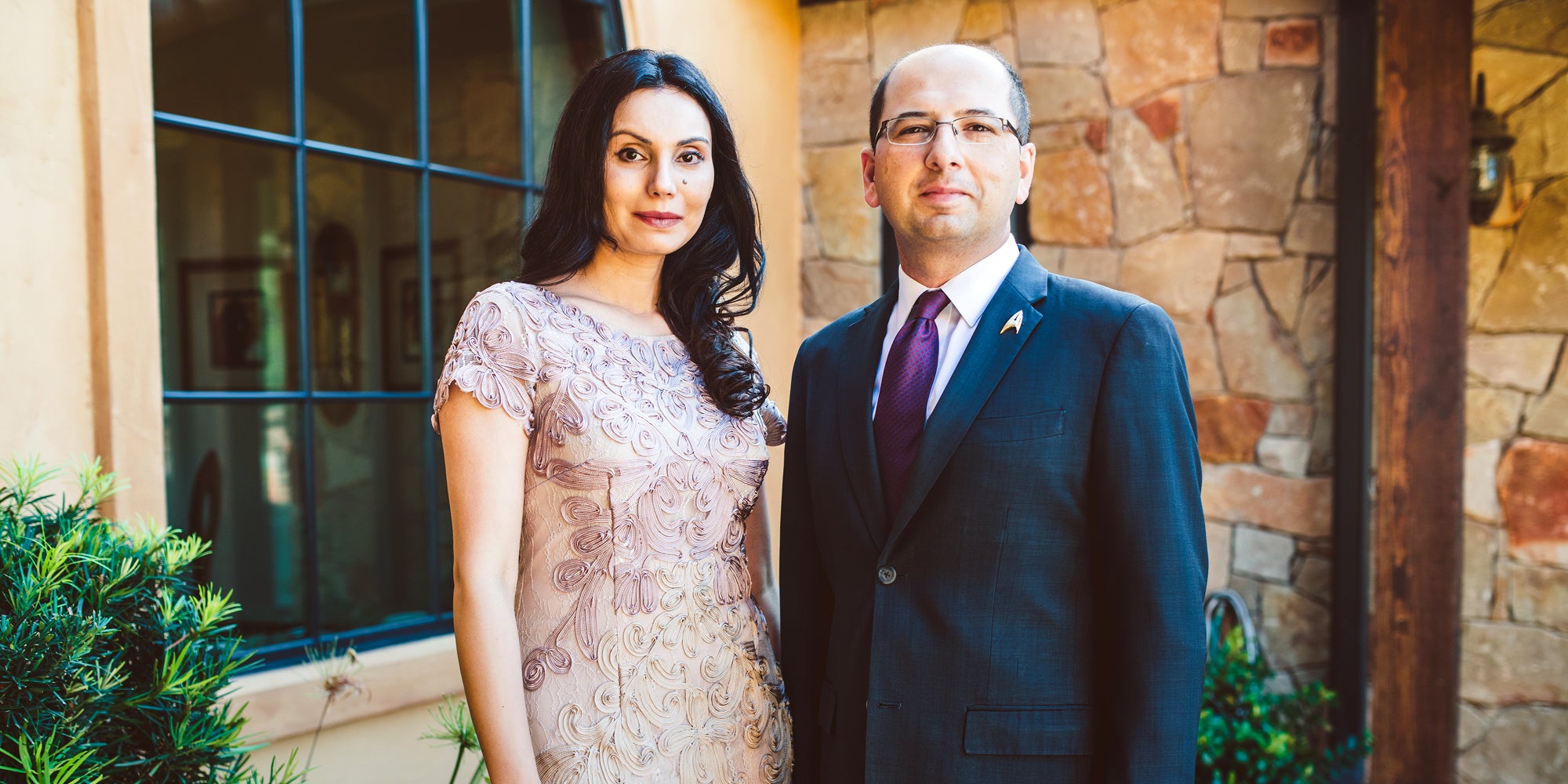 Austin tech entrepreneurs and devoted Longhorns Amir and Zaib Husain.
Photo: Sloan Breeden
"Zaib and I chose to make this gift because we believe artificial intelligence will one day help elevate the human condition."
— Amir Husain
At the age of four Amir Husain fell in love with computers — in his words, he "became obsessed" with them. In his teens he began writing to his heroes, computer scientists like Niklaus Wirth, who created the Pascal programming language, and Nicholas Negroponte, a pioneer in the study of how humans interact with computers. They all wrote back. Amir left his home of Lahore, Pakistan to attend The University of Texas at Austin 8,000 miles away, drawn by the work of one of UT's computer science labs. While at UT, he found a kindred spirit in his wife Zaib, who was also from Lahore and a student at the McCombs School of Business.
Amir and Zaib both come from a long line of adventurous intellects and have several authors in their families. Zaib's grandmother studied with Dr. Jonas Salk and Amir's older sister is a string theorist. They were taught to value education long before their paths met at UT. Together, these two entrepreneurs turned their creativity, intelligence and drive into successful companies.
The couple credit UT for changing their lives, which inspired them to make a donation to support groundbreaking work through UT's new Machine Learning Laboratory.
"Zaib and I chose to make this gift because we believe artificial intelligence will one day help elevate the human condition, and that the research conducted here will pave the way for such a day," said Amir.
Amir is restless, but in a good way. "My natural inclination with everything is 'how do you take it to the max and then some?' I'm focused on what can be done that others would consider impossible," he said.
As a result of that laser focus, Amir holds 34 patents with 29 more pending. He is the author of "The Sentient Machine: The Coming of Age of Artificial Intelligence" and founder and CEO of Austin-based SparkCognition, Inc., a machine learning and AI-driven cognitive analytics company. His work ranges from using AI to prevent equipment failures on oil rigs to making planes safer through predictive maintenance technology. Amir is as passionate about serving on the board of advisors for IBM Watson as he is about serving on the UT Department of Computer Science Advisory Council.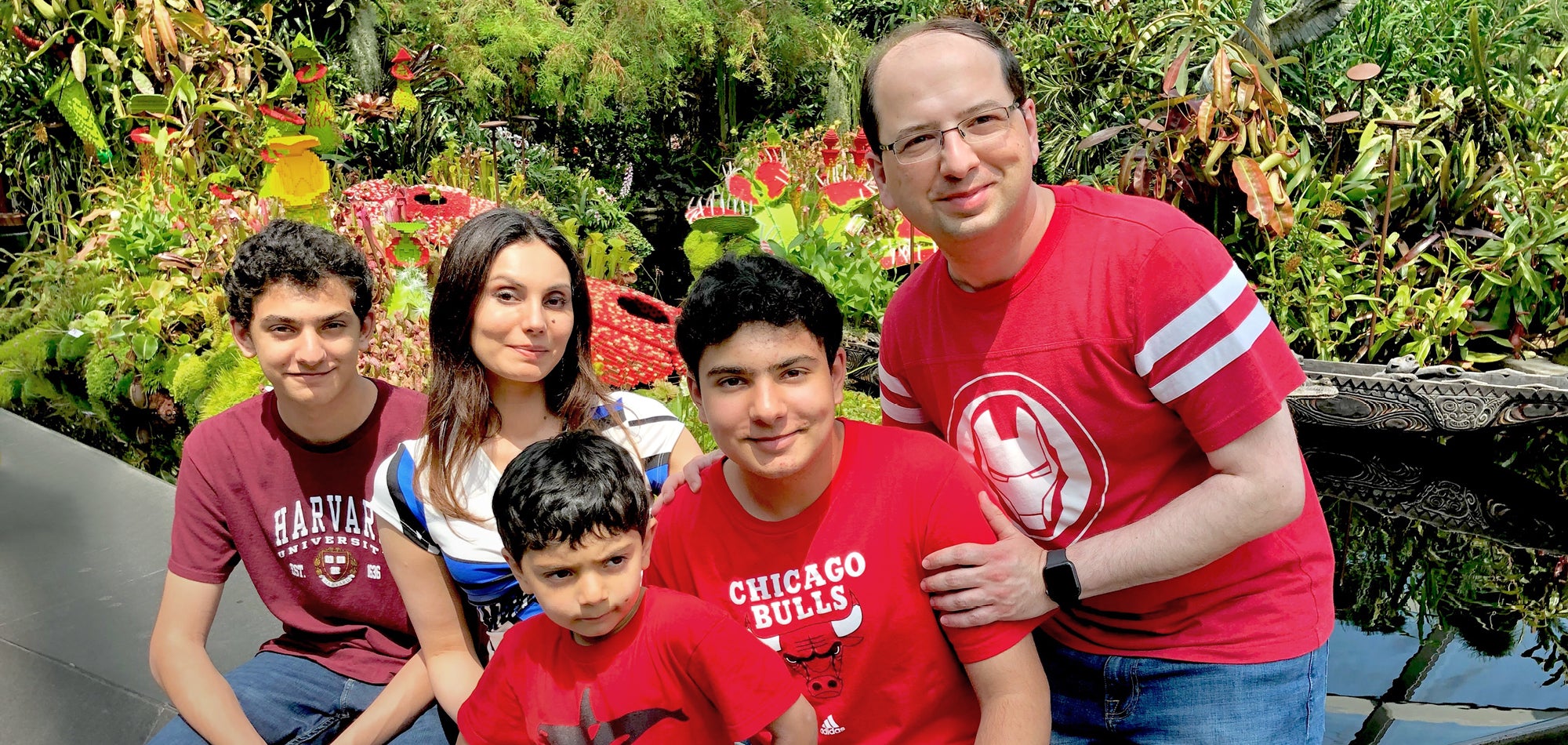 Amir and Zaib with their sons, Asas, Murtaza and Hyder.
Photo: Amir Husain
Zaib earned a finance degree from Texas McCombs and a master's in financial management from the University of London. In 2015, she founded Makerarm, a personal fabrication system with interchangeable tools for 3-D printing, milling and more that mounts on a desktop.
"My journey to becoming an entrepreneur really started in our garage," she said. "The lab workspace we have created there draws us all in at times — Amir, me and our three boys. We always find ourselves tinkering."
Problem-solving is in the Husains' DNA, especially problem-solving through computer science. The couple envisions the Machine Learning Lab accelerating the efforts of UT experts across campus to solve challenges in fields like energy and health care.
"Texas is at the nexus of energy and computer science because of UT," Amir said. "Artificial intelligence can make our existing energy sources more optimal — systems that consume energy can become more reliable and the whole process can be made safer."
"In health care research, there are professors at UT like Lauren Ancel Meyers, Jason McLellan and others who are doing excellent work related to COVID-19," added Amir. "It would be amazing to see cures for current diseases coming from a collaboration between UT departments. Zaib and I hope the Machine Learning Laboratory is going to play a big role in that."
Amir and Zaib also hope that the work of the new laboratory will be a driving force that takes the UT Department of Computer Science all the way to the top of global computer science rankings.
"It would be wonderful for UT to receive this recognition," Zaib said. "We're a family of Longhorns. Amir's brother and sister both studied here, as did my brother. The university has been important to our success as entrepreneurs. We have hired top UT talent and have consulted with UT faculty, who are experts in their fields."
"With this new Machine Learning Laboratory, all the things we love come together — our alma mater, computer science, artificial intelligence and a path to a better world," Amir explained. Zaib whole-heartedly agreed, "Our gift will help support all of these."
"And, of course, there's our city," Amir said. "Austin's time has arrived. The tech scene is booming and is destined to be a major driver for the local and national economy for decades to come. UT is the heart of Austin and by far the most valuable institution in the city."
NSF Selects UT for New Institute
In August, the National Science Foundation selected UT to lead the NSF AI Institute for Foundations of Machine Learning, bolstering the university's existing strengths in this emerging field. The new institute will be headquartered in UT's Machine Learning Laboratory.
Machine learning is the technology that drives AI systems, enabling them to acquire knowledge and make predictions to help solve many of the world's great challenges.
The NSF is investing $20 million in the project at UT to advance the foundations of machine learning.
The vision and support of Amir and Zaib Husain helped position UT for this transformational investment from NSF.
Get Started
When you include UT in your estate plan, you create global leaders, drive discovery and change the world. You also protect assets, provide for those you love and receive tax-wise benefits.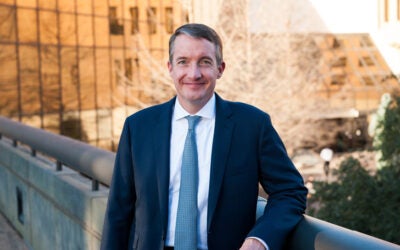 Achieving milestones is an excellent moment to look forward and set goals for the future.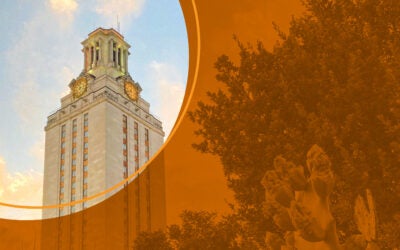 Alumni share favorite UT memories and why they support the Forty Acres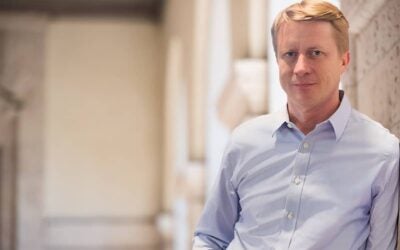 Bjorn Billhardt decided to be a Longhorn after he came to the Austin area in the '80s as a teenager on a foreign exchange program.