In May 2000, just as the Campaign for Texas fundraising effort was getting underway, The University of Texas at Austin announced a major gift. Red and Charline McCombs had given the university $50 million to support the business school, which would now be known as the Red McCombs School of Business — the first college or school at UT to be named for someone since the LBJ School for Public Affairs in 1970.
The McCombs' generosity launched what we now see as a transformational time for the business school and the university. More and more alumni and donors gave to see UT move into the 21st century as a world-class educational and research institution.
Since 2000, the McCombs School has become known the world over for its development of business leaders and their contributions to society and the world. More than 100,000 alumni are making a difference in all 50 states and more than 100 countries around the world. Here's a quick look at Texas McCombs since Red and Charline's gift.
2000: Driven to serve
Red and Charline McCombs make what is then the largest single donation in the history of UT. The titan of Texas business gives $50 million to the university's business school, which is renamed the Red McCombs School of Business in his honor.
"The business school is already a great school," he says at the announcement. "My gift is about creating new opportunities. My hope is that this gift will allow the school to be one of the very best in the world, period." Generations of Longhorns are inspired by his example to give back.
2001: Entrepreneurship, growth, renewal
Southwest Airlines founder and legendary Texas entrepreneur Herb Kelleher gives $4 million to Texas McCombs, founding the Herb Kelleher Center for Entrepreneurship, Growth and Renewal. "I have had the great fortune of earning a living doing something I love," he said. "I welcome the chance to give something back, especially to future entrepreneurs."
2008: A new center for executive education
UT announces the naming of the AT&T Executive Education and Conference Center in recognition of a $25 million gift. The center positions Texas McCombs as one of the leading providers of executive education in the U.S.
2012: Accelerating great business ideas
Entrepreneur and alumnus Jon Brumley, BBA '61, gives $6 million to Texas Venture Labs, which is renamed in his honor. JBTVL offers Texas MBA students courses, competitions and connections to Austin's vibrant startup community, encouraging innovation and commercialization.
2013: Transforming the McCombs undergraduate experience
Jim Mulva, BBA '68, MBA '69, and his wife, Miriam, are some of UT's — and McCombs' — greatest supporters. Their $40 million gift to UT will lead the renovation and transformation of McCombs' undergraduate buildings, including the newly named Mulva Hall, into state-of-the-art learning and research spaces.
2017: A century of business education
McCombs marks 100 years since the university's first Bachelor's of Business Administration degrees were awarded.
2018: On the corner of tomorrow
Rowling Hall, Texas McCombs' new home for graduate education, opens at the corner of Guadalupe Street and Martin Luther King Jr. Boulevard, providing a new gateway to the UT campus and a magnet drawing Austin's business community to McCombs.
The building's name honors Robert and Terry Rowling, both BBA '76, whose family's $25 million leadership gift created the momentum for the $186 million project.
2018: Opportunity of a lifetime
In late 2018, Phil Canfield, BBA '89, and his wife, Mary Beth, announce their $20 million gift to support scholarships, programming and national profile-building in McCombs' Canfield Business Honors Program, which is renamed in their honor.
"The highest ROI investment you can make is creating access for students to get great educations," Canfield says. "The Business Honors Program gave me all the fundamental skills I needed to launch a multi-decade career as a private equity investor. That was an investment that the university, the McCombs School of Business and BHP made in me. It's time for the university to get a dividend on that investment."
2020: Leading into the 21st century
U.S. News & World Report names the Texas McCombs BBA the No. 5 undergraduate business program in the country — the 22nd straight year the program has been in the top 10. McCombs tied with the University of Pennsylvania for the highest number of top-10 program specialties, including top-five rankings for accounting, marketing, management, finance, management information systems and business analytics.
Human centered,
future focused
Texas McCombs is one of the world's leading business schools thanks to the support of its loyal alumni and friends. Your support makes a difference for our students, faculty and programs every day.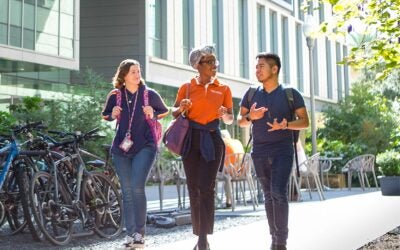 With your support, UT is innovating education from New York City to West Texas.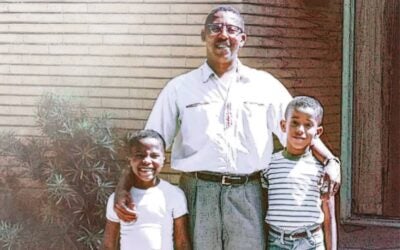 The Chase family honors Texas' first Black architect by investing in UT students and faculty.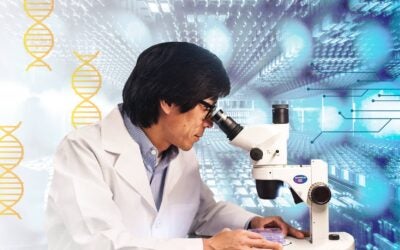 Dheeraj and Swapna Pandey support UT's partnership in personalized cancer care.