The generosity of donors is making a difference for UT students.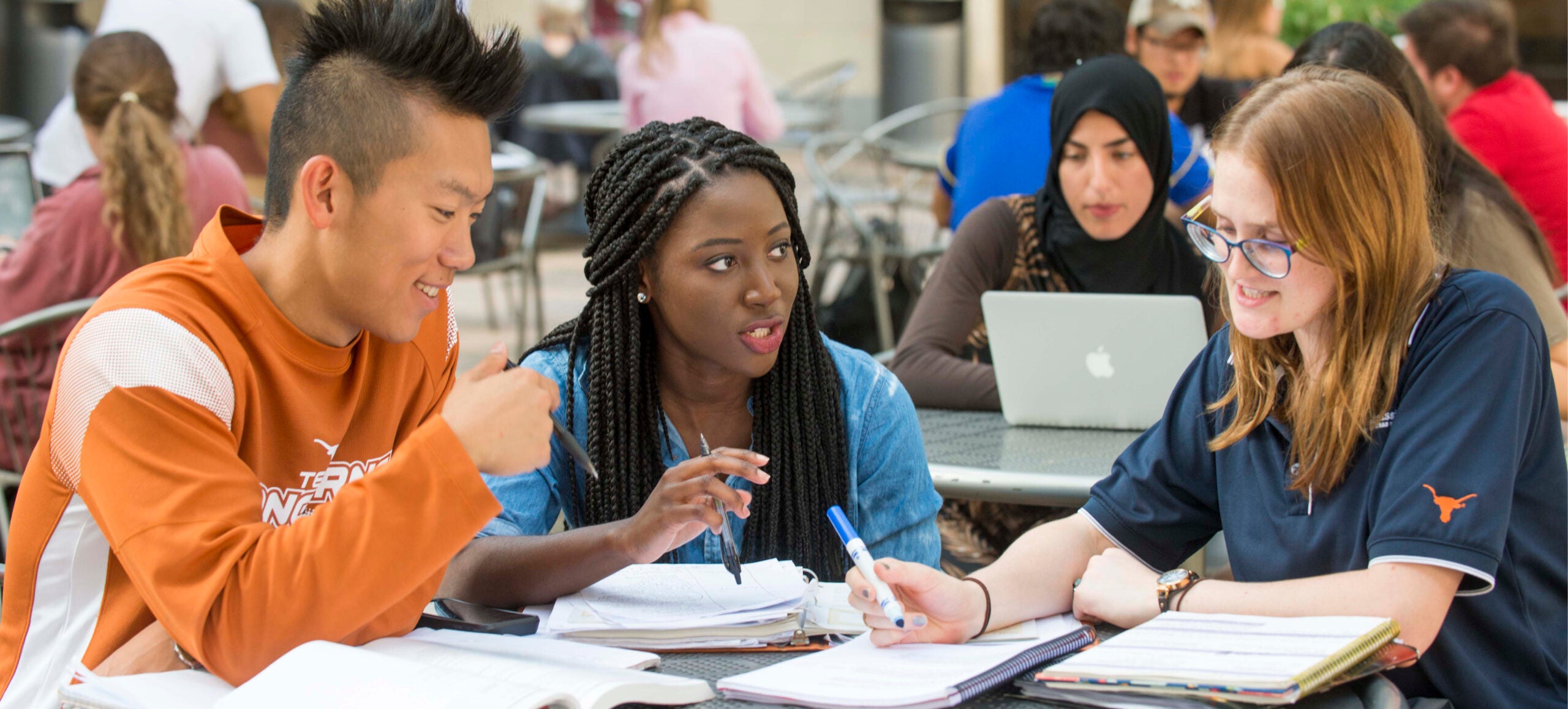 No one understands the value of a UT education quite like a Texas Ex. Through the Texas Exes' Opportunity Scholarships initiative, generous alumni invest in the next generations of Longhorn leaders who come from groups traditionally underrepresented on campus. 
Last fall, Todd Maclin, BBA '78, along with his family, established an Opportunity Scholarship endowment to cover tuition and fees annually for two Black business students from the Dallas/Fort Worth area. Those students will also receive a unique and invaluable benefit — direct advice and support from the Maclins, including access to their personal and professional networks.  
"In my experience there is no greater game-changer than a good education," Todd said. "I recognize the privileges I've received, and I value them. I also recognize other people haven't had the same. If you have relationships that can help you throughout your life, it makes a difference."  
Guy Watts, B.A. '70, JD '71, first connected UT and diversity in 1958, when he came to campus for a debate tournament and became the state champion through his passionate advocacy for the respect of Black citizens. Now the head of a family including three generations of Longhorn lawyers, Guy is growing their legacy by supporting Black students from the Coastal Bend who are earning their JDs or Ph.D.s in the School of Law and College of Liberal Arts. The Guy Watts Endowed Scholarship was established through a $1 million estate gift.  
UT's corporate partners are supporting Texas' most promising future leaders.
"At Verizon, we have long recognized that diversity is more than a strength or superpower. We know there's more work to be done, and we're committed to building equity within and beyond our walls. We're delighted to help expand opportunities for diverse student leaders in the Longhorn community."
— Darlene Brugnoli, Vice President – Government Affairs, Verizon
$30,000 sponsor, Opportunity Scholarship Program
A Powerful Partnership  
January marked the one-year anniversary of the Michael & Susan Dell Foundation's transformational $100 million investment to help students with significant financial need succeed at UT and graduate ready to change the world. Through this partnership, UT for Me – Powered by Dell Scholars provides critical funding for incoming Pell Grant-eligible students, as well as wraparound support services such as financial aid coaching, tutoring, career planning and a laptop. In fall 2020, UT for Me welcomed its first class of 2,400 Longhorns, and the second cohort will enroll this fall.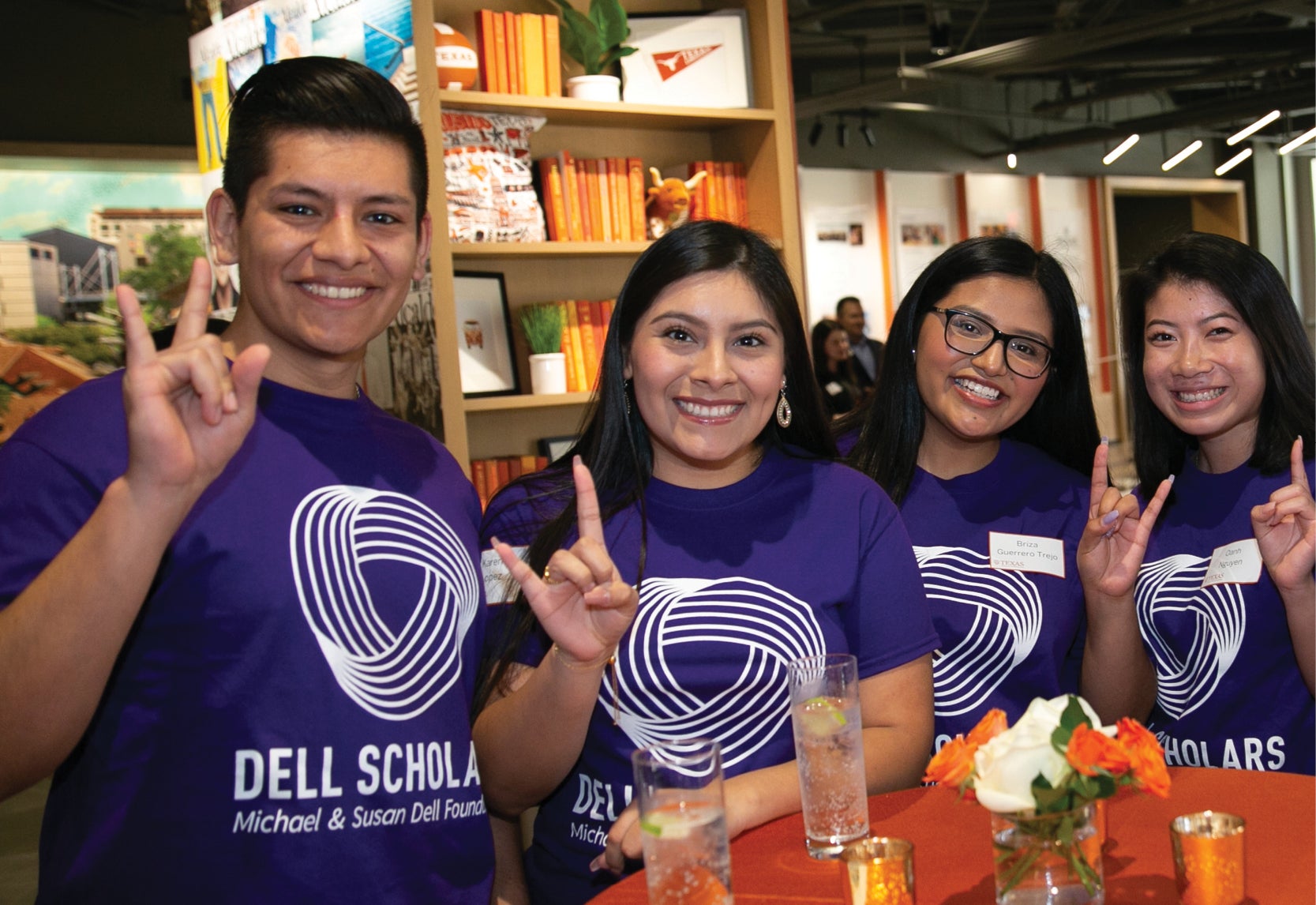 Challenge Accepted
More than 125 generous donors have accepted the Texas Challenge to invest in UT's high-potential students from low- and middle-income families. Since 2019, they have created new scholarship endowments with a total impact of more than $45 million after the Challenge's 1:1 match. Members of the Class of 2024 are the first to benefit from these donors' generosity.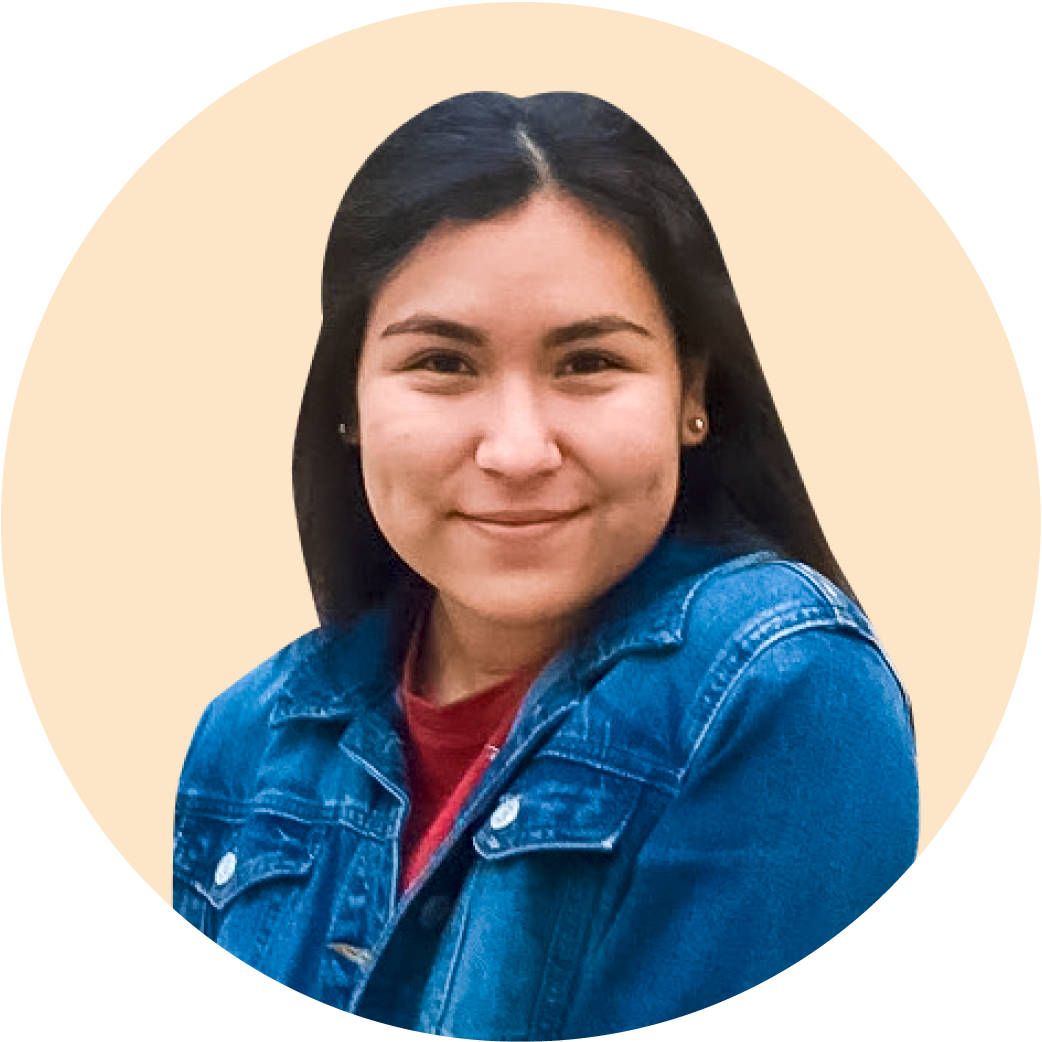 "I'm the first in my family to leave El Paso in pursuit of higher education, and my scholarship is a reminder that taking that chance was the right decision. My scholarship donors were generous enough to fund my dreams of becoming a lawyer and a writer, and I won't take that opportunity for granted." — Leah Piñon, Class of 2024, Paul and Tish Szurek Endowed Scholarship
— Leah Piñon, Class of 2024, Paul and Tish Szurek Endowed Scholarship

Success for Every Student
College enrollment is down nationwide, especially among low-income students and students of color. But thanks to a long-term vision for student success — and the support of generous donors — The University of Texas has bucked that trend. In 2020, UT reached its highest ever four- and six-year graduation rates. The university also enrolled one of its largest ever freshman classes and increased enrollment of low-income, Pell Grant-eligible students. Last fall it was recognized with the prestigious Seal of Excelencia, granted to just five colleges and universities committed to the success of Latinx students.
"This success reflects the hard work of our outstanding students, who come to Austin from a diverse range of backgrounds but are united in their ability to thrive and excel once they get here," said President Jay Hartzell. "Behind them stand thousands of faculty and staff who share in their accomplishment."
Supporting the Faculty who Support Students  
UT can attract top Texas talent because of its outstanding faculty. Last fall, generous donors to the School of Nursing ensured that those faculty have the support they need to lead the field, enhance research and programs, and support the next generation of Texas nurses. Ascension Seton permanently endowed the Ascension Seton Chair in Clinical Nursing Research. Maureen Decherd, B.A. '73, Robert Decherd and their daughter Audrey Decherd, MSN '12, established the Maureen Healy Decherd '73 Distinguished Professorship in Nursing, the school's first-ever distinguished professorship.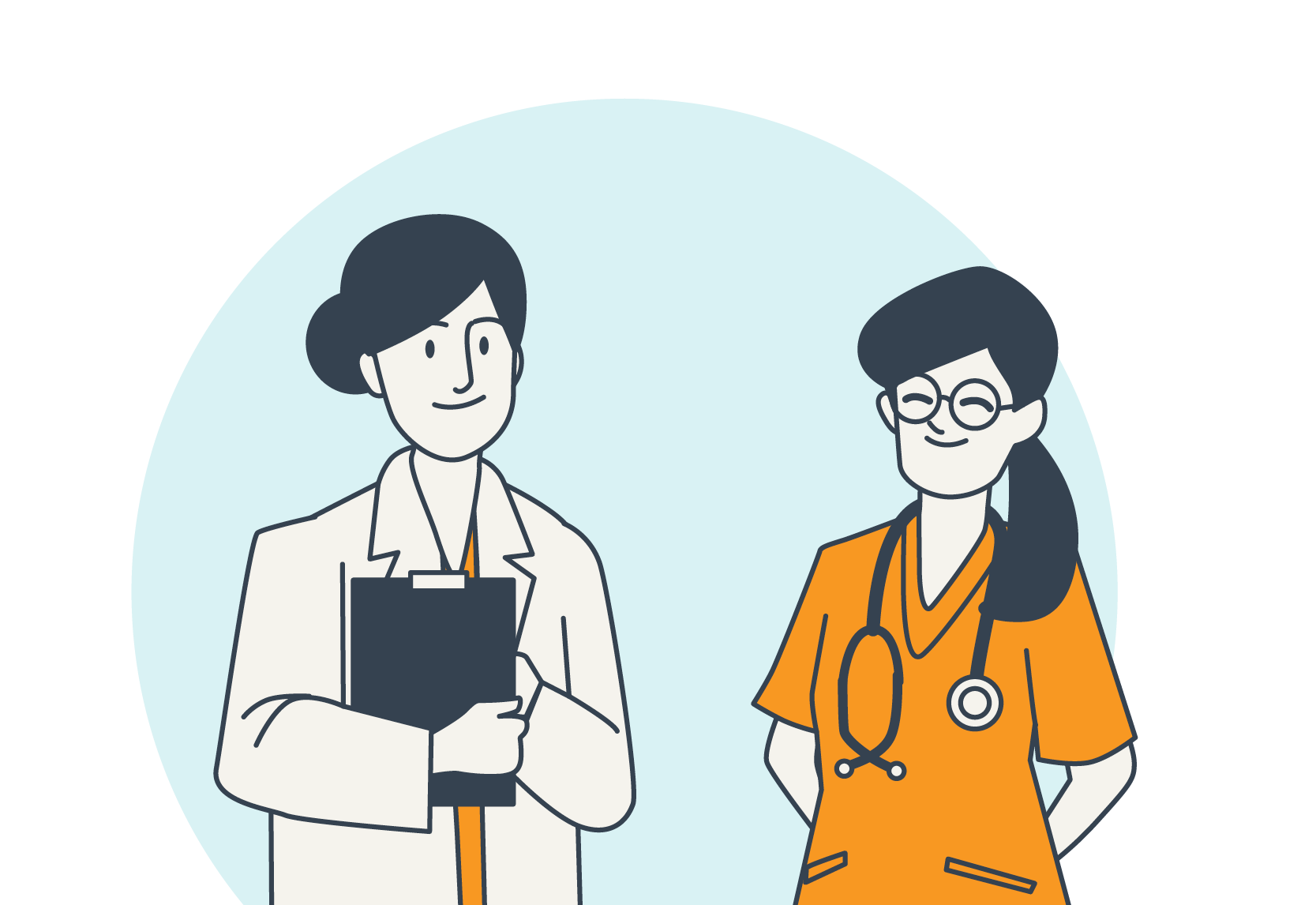 Change a student's life. Open a door to the Forty Acres.
Learn more about creating a scholarship at giving.utexas.edu/doors.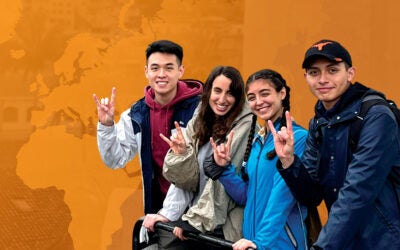 Five years after its founding, take a look at the impact of UT's President's Award for Global Learning on students, faculty and communities around the world.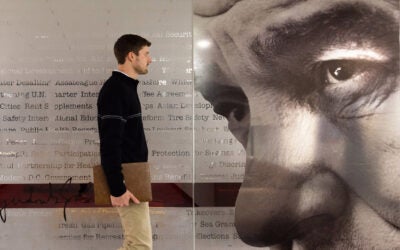 Ambassador Carrin F. Patman builds on her family's legacy of public service with a historic investment in UT's LBJ School for Public Affairs.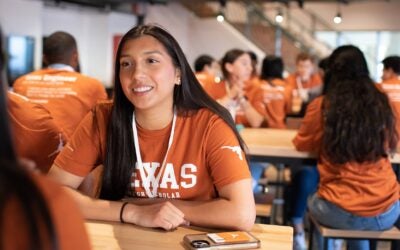 A new cohort of Linford Scholars is starting their studies in the Cockrell School of Engineering thanks to a transformative investment from Michael and Erika Linford.