Remembering J. Mike Walker
(1943-2018)
There's nothing that Longhorns and Aggies like more than a little friendly competition.
But J. Mike Walker, an alumnus of both The University of Texas at Austin and Texas A&M University, showed that when an investment is made in both universities, everybody — from students and faculty on each campus to the citizens across Texas and beyond — can win.
Before his death in December 2018, Walker, who received his master's in mechanical engineering from UT in 1968, united the rival universities with his extraordinary gifts of $20 million to support their departments of mechanical engineering.
"Thanks to these investments, Mike did not just enhance both universities," says Sharon L. Wood, dean of UT's Cockrell School of Engineering. "He helped to reshape the future of innovation throughout the state of Texas as well."
Top Photo
Detail of Mark di Suvero, 
Clock Knot
, 2007
Courtesy of UT Landmarks
President Gregory L. Fenves, Professor Joe Beaman, Professor Rick Neptune, Dean Sharon L. Wood, and Asleep at the Wheel's Ray Benson celebrate the dedication of the J. Mike Walker Department of Mechanical Engineering.
UT Austin's newly named J. Mike Walker Department of Mechanical Engineering is widely known as one of the best in the U.S. For more than 100 years, it has educated Longhorns who go on to lead in a variety of fields — as astronauts, inventors, educators, CEOs and in other roles across industries. It has also been an incubator for some of the most significant technologies of our time, including the lithium-ion battery and one of the most widely used methods of 3D printing.
Walker's own life exhibits the dedication and tenacity that defines Texas engineers. Born and raised in a two-room log cabin outside Huntington, Texas, he graduated at the top of his undergraduate mechanical engineering class at Texas A&M. As the recipient of a prestigious National Science Foundation Fellowship, he was able to earn his master's degree at UT before returning to Texas A&M to earn his Ph.D. and teach engineering mechanics. He went on to found Dril-Quip, one of the world's leading manufacturers of offshore drilling and production equipment.
"As a dedicated advocate for the value of higher education, Mike chose to give back to this department because of the powerful impact that his academic experiences had on his life and career."
Sharon L. Wood
Dean, Cockrell School of Engineering
J. Mike Walker Department of Mechanical Engineering: A National Leader

1,200+ undergraduate and 400+ graduate students
#11 undergraduate mechanical engineering program
#10 graduate mechanical engineering program
Transformative research including the invention and development of the lithium-ion rechargeable battery and the selective laser sintering 3-D printing technique
His gift will ensure that UT maintains its influential place in mechanical engineering innovation. State-of-the-art research and teaching resources will support the work of students and faculty, while excellence funding will help the department recruit and reward the very best students and faculty.
Walker said that his experiences at UT and A&M didn't only train him as an engineer. "They also taught me how to be a leader — how to collaborate on big ideas, persevere through tough challenges and bounce back from failure," he said.
"My education shaped who I am today, and I want to make that same opportunity available to as many students as I can."
His generosity is ensuring that he does. "Mike Walker exemplified the success that a world-class university can provide," says Rick Neptune, chair of the J. Mike Walker Department of Mechanical Engineering. "Through his gift, Mike will empower the next generation of mechanical engineering leaders and innovators to follow in his footsteps."
"We love that Mr. Walker was looking forward to the future of engineering. This is an extraordinary act of philanthropy."
Sophie Montemayor
Junior, Mechanical Engineering
Mechanical Engineering Undergraduate Advisory Board
"With this gift, we'll be able to make sure that students have the learning environment they need to grow and become great mechanical engineers."

Samraz Badruddin
Senior, Mechanical Engineering
President, American Society of Mechanical Engineers, UT Austin chapter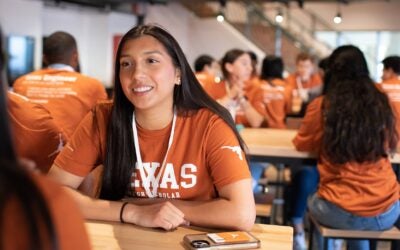 A new cohort of Linford Scholars is starting their studies in the Cockrell School of Engineering thanks to a transformative investment from Michael and Erika Linford.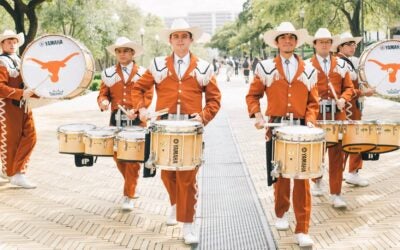 The generosity of Longhorn Nation keeps the Longhorn Band marching on to its 125th year and first year in the SEC.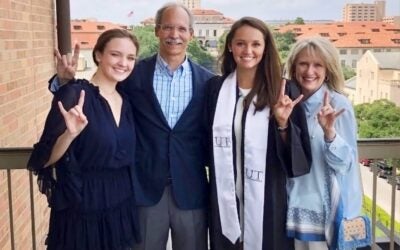 Fort Worth philanthropists and Longhorn parents John David and Leslie Moritz are giving back to the UT social work students who care for our communities.