From left to right: Alice Sheffield, LL.B., 1918, MariBen Ramsey, J.D., 1984,

Laurie Beth Jackson, J.D., 2019



"The commitment of our alumni to the School of Law — through volunteering, mentorship and giving — has helped make us the best law school for over a thousand miles in any direction. Alice Sheffield and MariBen Ramsey are two pioneers of this spirit of giving back. The foresight of their gifts, especially in establishing faculty endowments and scholarships, continues to be felt today. As students like Laurie Beth Jackson benefit from their gifts, graduate, and take their place in the legal profession, the impact of Alice's and MariBen's generosity will be amplified throughout Texas and beyond."
Dean Ward Farnsworth,
The University of Texas School of Law
Alice Sheffield belongs to a revered cohort of fearless Texas women. She was born in Palestine, Texas in 1896 and later moved to Houston. In 1914, the year World War I began, she enrolled at UT. While there she lettered in basketball and served as vice president of her law class of six women and 29 men. Sheffield earned her law degree in 1918, two years before the 19th Amendment was ratified.
She was a trailblazer — only the second female graduate from the School of Law and the first alumna to actively practice. In Houston she landed a job on Gulf Oil's legal team and was promoted to associate general counsel.
Throughout her life she loved her school, donating $500,000 to fund professorships. When she died in 1984, Sheffield gave $3.5 million to the School of Law through her estate. Her gifts established numerous faculty chairs in both the School of Law and the College of Liberal Arts.
Sheffield's generosity elevated the School of Law to a distinguished program that has attracted expert faculty and talented students. Her gift was the largest gift ever received by the School of Law at that time and set the stage for others, like alumna MariBen Ramsey, to continue the cycle of giving back.
MariBen Ramsey was destined to be a Longhorn. "In my family it wasn't even a thought process about where to go to school — it just was Texas," she said with a laugh.
Her father Ben Ramsey, a UT alum and San Augustine native known for his razor-sharp wit, spent his life in public service as a state representative, state senator, secretary of state, lieutenant governor and railroad commissioner. And he was a lawyer like his father. The legal genes run strong in the Ramsey family and MariBen enrolled in the School of Law after earning a degree in accounting at UT.
As a partner in an Austin firm, Ramsey practiced corporate securities law for 12 years. But locally she is better known for her passion and know-how in the field of philanthropy. She brought her talents together at the Austin Community Foundation, where she served as vice president, general counsel and chief philanthropy officer. Today she is a widely sought consultant for nonprofit organizations.
"I always wanted to honor my dad and celebrate his legacy in Texas politics."
Ramsey models the power of giving back in her own life. Over the years she has served on over 20 nonprofit boards. And today she's changing the lives of Texas students. She and her sister Rita Ramsey Kreisle established the Ben Ramsey Endowed Scholarship, awarded to UT law students who are from San Augustine and have financial need.
"I always wanted to honor my dad and celebrate his legacy in Texas politics," said Ramsey. "With this scholarship, we can help students like him — bright students interested in law who come from a small East Texas town."
Ramsey has also established a planned gift to help future generations of UT law students through the MariBen Ramsey Scholarship. "My hope is that this scholarship will help educate top lawyers and keep those top lawyers here in Texas, where we will all benefit," she said.
Law school at UT was always a dream of Laurie Beth Jackson, a recipient of the Ben Ramsey Endowed Scholarship.
"Being from a rural town like San Augustine and coming to Texas Law was an intimidating step," Jackson said. "Apart from the valuable financial support, receiving this scholarship was very special because it's from a family with roots in my hometown." 
Jackson has found opportunities at UT to learn through experience. She participates in the Texas Law Trial Advocacy Program, which offers practical litigation courses, and she competed on the Texas Law Mock Trial White-Collar Criminal Prosecution team in Washington, D.C.
After she graduates this spring, Jackson will pursue a career in criminal prosecution.
"I want to thank MariBen and her sister for investing in my education. I hope that I have been — and will continue to be — a good steward of this gift and share with others as they have shared with me."
When you include UT in your estate plan, you create global leaders, drive discovery and change the world. You also protect assets, provide for those you love and receive tax-wise benefits.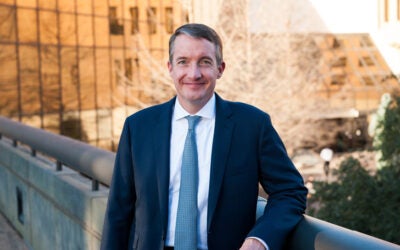 Achieving milestones is an excellent moment to look forward and set goals for the future.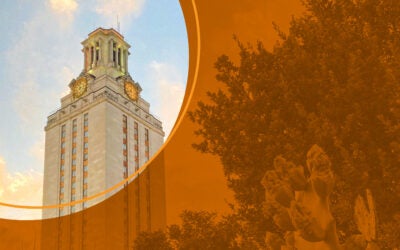 Alumni share favorite UT memories and why they support the Forty Acres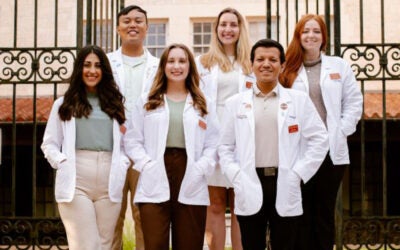 Marissa Schlaifer sees philanthropy as an obligation more than an opportunity. Her gift will open many doors for students in the College of Pharmacy.